The usually serene Viharamahadevi Park is buzzing with activity, fun and adventure these days (September 1 to 5 to be exact) as tents are put up, camp fires are built and firm friendships are formed.
Yes, it is the annual Colombo Scouts Camporee!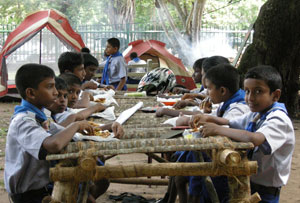 It's all happening at the Viharamahadevi Park. Pic by Athula Devapriya
More than 2000 Scouts have gathered at the Viharamahadevi Park for the 48th Colombo Scout Camporee, the annual Scouting Camp held for Scouts belonging to the Colombo District.
As the Sri Lanka Scouts Association operates in girls' schools which do not have Girl Guide Companies, the camp sees the participation of both Boy Scouts (approximately 85%) and Girl Scouts. The Girl Scouts, who are not staying the night at camp unlike their male counterparts, participate in the same activities as the Boy Scouts.
The Differently Abled Section of the Scouts is also a part of the 48th Colombo Scout Camporee. In keeping with the motto of the camp 'Step Ahead Through Scouting', the camporee is filled with activities both exciting and challenging which will aid in developing the various skills of the Scouts, such as sports and cultural programmes, a cycle race, road race, Skill-o-Rama and talent show to name a few.
Participating at the camp and sharing their experiences are also Scouts who were part of the World Jamboree (the international version of the camp) held in Sweden early this year. The World Jamboree and the National Jamboree- the combined camp for Scouts from all the districts in Sri Lanka- are held every four years.
Scouts from other districts, such as Vavuniya, Polonnaruwa and Chilaw are also present at the camp.
The camp is open to the public until this evening (September 4). So don't hesitate to stop by, meet the Scouts and grasp this wonderful opportunity to see what Scouting is all about!