The wattle and daub house of Upamalika Ratnakumari, who brought a gold medal back to the country from an international athletic event, bears testimony to the hardships the family undergoes.
Hailing from a remote village in Dambulla, Ratnakumari was this week practising for the next national event.
She helped her family tend their herd of cattle, and to finance her participation at athletic events, she climbed coconut trees to pluck coconuts, as well as working as a labourer in the fields.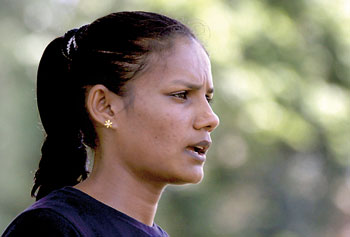 Upamalika: Shining example of if there is a will there is a way
Her performances at the Mahaweli Games did not go unnoticed, where she caught the eye of former national athlete Ranjith Aluvihare and Sports Ministry coach Malani Edirisuriya, who helped her join the Army to further her athletic career.
Last week, the Sunday Times reported how Gold-medal winner Ratnakumari returned to Sri Lanka sans any official reception or welcome. She returned to her hometown by bus, where she was received by the Chairman- Dambulla Urban Council, Jaliya Opatha among others.
Ratnakumari was back at practice at the Sports Ministry grounds for a national event. She told the Sunday Times that her ambition was to represent the country at national level. "Our village is in a remote area off Dambulla which does not have electricity, no proper road, and not even a postman comes to the village," Ratnakumari said.
"We did not have money for our expenses. My mother had a hard time bringing up a family of four. We looked after cattle owned by others, did menial labour and pluck coconuts to keep the home fires burning and for our education," she said.
"I was educated at Bulagama Vidayalya, Dambulla, where I successfully participated in many local level athletic meets, winning gold medals," she said. "After leaving school, I took part in other national meets, as well as at the Mahaweli Games, winning over 100 medals and 96 certificates," Ratnakumari said.
Since their village did not receive letters, her mailing address was the school address, which meant that, more often than not, invitations for athletic meets were received after the events," she added.
Ratnakumari joined the Army in 2009 as a Private, and was promoted LCpl. for her prowess in athletics. She said she received encouragement and support from her superior officers and her trainers. She is currently trained by Cpl P.A.P. Palamure.
Ratnakumari took part in the 73rd Singapore Open Track & Field Championship 2011 on an invitation from the Sports Ministry.She won Gold with a timing of 54.71 seconds. Second place went to a Papua New Guinea athlete, who clocked 55.71 seconds. Others in the race included athletes from Japan, Australia, the Philippines, China, Hong Kong, Thailand, Malaysia, and Singapore.
But, it was anything but easy for her to take part at this meet. "I had only one pair of track shoes for the event. I saved from my salary and brought another pair, but that too was breaking. During the heats of the event in Singapore, the shoe gave way, but after the event, I pasted it with glue I had taken from here, and managed to run in them for the finals," she said.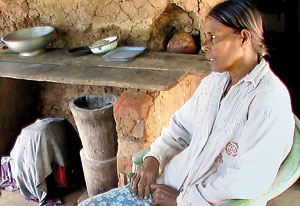 A proud mother. Pix by Kanchana Kumara Ariyadasa and Athula Devapriya
Back home, Kumari's proud mother Indra Kumari, 58, was thrilled with her achievements. "During her school days there was nobody who could run faster than her. She was very talented. She had lot of encouragement from the school and they told her to continue with her athletics," Ms Indra said.
"We had a small plot of land in which we cultivated paddy and my daughter would sell a bag of paddy or get a loan from someone in the village to finance her participation at athletic events," Indra Kumari added.
Since her success in the international arena, there have been many offers of assistance, with one of them from a Sanjaya Peiris in Canada. "I was an athlete and represented Sri Lanka at the 1990 SAF Games, in the 400m and 800m. I would like to help this young girl with some sports equipment for her to do well and win more medals for my motherland, Sri Lanka," an email from Mr. Peiris said.