The numbers are out - there are 5,879 wild elephants including 1,107 babies in the country, the first-ever National Survey of jumbos has found.
This figure is more or less correct, but you cannot count elephants siyayata siyayak (100%) like you would do in a population census where you go and knock on doors, Agrarian Services and Wildlife Minister S.M. Chandrasena told a crowded press conference on Friday at the Department of Wildlife Conservation (DWC) at Battaramulla.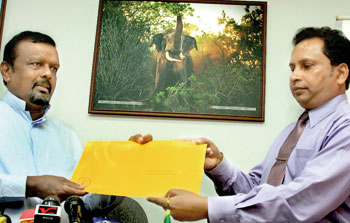 Director General of the Department of Wildlife Conservation H.D. Ratnayake (R) hands over the report of the First National Survey of Elephants to Minister of Agrarian Services and Wildlife S.M. Chandrasena . Pix by M.A. Pashpa Kumara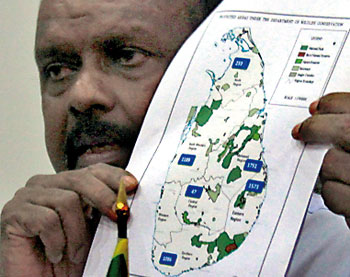 Minister of Agrarian Services and Wildlife S.M. Chandrasena shows the country map marked with the elephant quantity made from the detail collected from the First National Survey of Elephants on a provincial basis
The initial results are being released due to media requests from the time the survey was conducted from August 11-14, DWC Director-General H.D. Ratnayake said.
Media focus on the elephant survey heightened after Minister Chandrasena got embroiled in a controversy over alleged remarks, denied later, that the survey would help identify 300 baby tuskers for capture and domestication for use in peraheras. This resulted in most conservation groups which had agreed to extend their support in the counting pulling out.
Referring to the controversy, Minister Chandrasena said on Friday that he loved elephants and will not allow the capture of tuskers from the wild. He would also never break the law which clearly prohibited such action.
Among the wild elephants are 122 tuskers, the survey costing Rs. 23 million conducted in six of seven "wildlife regions" which comprise elephant habitat, has found. The number of baby tuskers found in the wild has not been specified yet. The survey used the "water-hole count method", a technique heavily questioned by many scientists and given up as unreliable in other countries.
We also confirmed the presence of elephants at Sinharaja and Sri Pada, Mr. Ratnayake said. Two elephants have been spotted in the Sinharaja rainforest and 18 at Sri Pada, which are the only wild elephants in the wet zone. (See graphic for elephant distribution)
While stressing that the survey was to get athyavashya daththa (vital data) which would be the basis of future action, especially in the management of wild elephants and the mitigation of the human-elephant conflict (HEC), DG Ratnayake, however, pointed out that the actual figures could be slightly different with a few elephants being missed out.
This is the very point that elephant conservationists have been protesting about loud and clear not only in the run-up to the survey but even now.
The survey figures, from what has come out of Friday's press conference, may be exactly the actual number of wild elephants or way below or way above, a conservationist said, questioning why the DWC uses methodologies that are outdated and questionable.
Does not the DWC have more pressing matters to attend to rather than spending not only time but also money and manpower on a survey which has yielded data which may be accurate or wrong, but which it is no one would know asked another activist, bringing to the fore issues of double-counting and missed elephants.
Tackling a different angle, many conservationists also asked how this data could be used in the conservation of elephants or mitigation of the HEC as claimed. They voiced concerns such as - on what basis the DWC will decide whether the number of elephants counted in Sri Lanka, in a particular region or in a specific locality, are insufficient, enough or too many and what will be done if it is too low or too high.
Elephant numbers are elusive and there could be severe consequences of using flawed survey data for management, echoed another environmentalist. A "detailed report" is being prepared and should be ready within three months, it is learnt.