The government has declared that the Western Province be kept free of election posters, decorations, banners and cut-outs and directed the police to arrest those violating the orders, a senior police officer said.
Deputy Inspector General Anura Senanayake told the Sunday Times the order had been issued by the Defence Secretary Gotabaya Rajapaksa to ensure that Colombo and its suburbs were kept clean as there was an ongoing programme to beautify the area.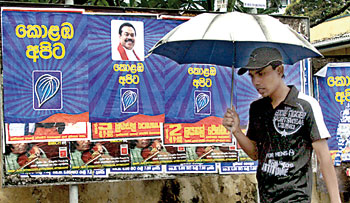 Some candidates seem to know how to circumvent the Defence Secretary's orders
"We will not only stop election posters and cutouts, but also take legal action against persons putting up such material," DIG Senanayake said. He said that in addition vehicles which put up election stickers or posters at the rear of the vehicle obstructing the view of the driver also would be penalized for violating a traffic offence.
The DIG said additional police teams would be deployed to keep the city clean and ensure that posters were not put up at night. In a related development all UPFA candidates in the Western Province have also been instructed by President Mahinda Rajapaksa to keep the city clean by refraining from putting up election related posters. Minister and UPFA General Secretary Susil Premajayantha said that in addition to the President's advice, the Defence Secretary had ordered the Police to be strict on those putting up posters.
"We usually pay large amounts of money to remove the posters and clean up the city after an election. This time we are trying to take action in advance to prevent the display of posters and election-related material," he said.
The minister said he hoped other political parties would cooperate in this move to keep the city clean.
However, despite the ban on election related material permission has been granted by the Colombo Municipal Council to put up cut-outs of President Rajapaksa in the city.