Pulling out stones from a new road under construction in the Puttalam district, two UPFA members of a local council in the area have questioned the poor quality of construction.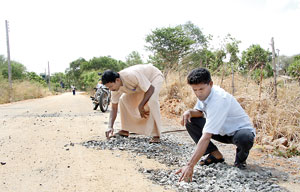 Men at work: The two PS members show what's wrong with the road
The first stage of the road was completed and was set to be carpeted, but the two council members Gamini Sarath Kumara and Nimal Jayasiri of the Karuwalagaswewa Pradeshiya Sabha have pointed out that the Road Development Authority (RDA) had failed to meet standards.
The construction of the four kilometre stretch of road in Muriyankulam costing Rs. 71.5 million began in March. The two members told RDA officials present that the road had not been levelled properly although preparations were afoot to move on to the next stage of carpeting.
They also pointed out that the soil on the sides of the road had been cut without authorisation from the Pradeshiya Sabha.
Officials present had agreed to look into the complaints.Puttalam district Government Agent Kingsley Fernando told the Sunday Times that he had received complaints and had asked the contractors to look into the issue.