Wildlife officials this week appealed to the public to keep away when elephants are being rescued from ditches or wells, as they could easily become boisterous, once freed.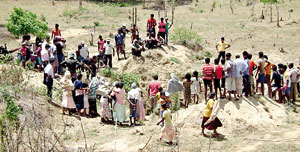 The scene last week close to Wilpattu Sanctuary
This was after two elephants strayed into a village close to the Wilpattu Sanctuary early this week, and fell into a well used for irrigation purposes. People around gathered and helped the Wildlife officials to get one of the animals out of the well, when it charged a woman carrying a child, who was in the crowd.
A Wildlife official shouted at the elephant, in an attempt to distract it, when the animal turned its attention on the official and charged him instead.Wildlife officer S. Ranjith narrowly escaped being trampled to death, when the crowd screamed at the animal and scared it away. Ranjith, a father of three, attached to the Wildlife office in Katupathwewa, managed to escape with scratches on his body.
A Wildlife official who wished to remain anonymous, said that the reaction of lookers-on, soon after an elephant falls into a pit, is to gather around, thus 'getting in the way' of officials in their rescue efforts.
No amount of warning by Wildlife officials are heeded by the curious villagers. "So it is not unusual that accidents happen," he said.