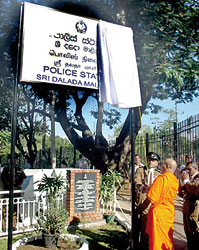 Pic by Shane Seneviratne
All 430 Police Stations throughout the country put up new name boards along with a separate board to mark the 145th anniversary of the Department yesterday.
Each of the name boards costs Rs. 40,000 with instructions to each Superintendent of a Police (SP) Division to meet the bill. In addition they were also told to put up the board for the anniversary.
The new name board in plastic could be illuminated and will have its lettering in all three languages – Sinhala, Tamil and English.
Picture shows the Malwatte Chapter Sangha Sabha member Ven. Thibbotuwawe Medhankara Thera and the chief priest in charge of the Maligawa Thewawa at the Dalada Maligawa Police Station unveiling the name board.
Police Station head Inspector Thusitha Halangoda is also in the picture.