Vegetable cultivators in the Nuwara Eliya district have been affected by a sharp drop in prices. Farmers who cultivate leeks, carrot, beetroot and cabbage are those mainly affected with the drop in prices, with some of them reluctant to harvest the crop due to the drop in prices.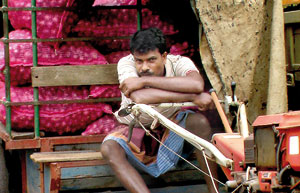 A trader looks despondently as vegetables remain unloaded at the Dambulla market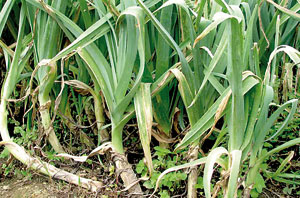 Farmers are reluctant to harvest their crops of leeks because of the low prices
They said that, despite the availability of fertiliser at a subsidised rate, the high cost of labour, pesticides and other chemicals has resulted in a sharp increase in the cost of production, and were unable to get their return on investment due to the sudden drop in prices.
Farmers said that the import of big onions, stocks of red onions coming from Jaffna and onions coming into the market from Dambulla and Matale areas has resulted in a drop in demand for leeks. According to officials at the Nuwara Eliya Economic Centre, they purchase a kilo of leeks at Rs. 18 to Rs. 20, while at the cultivation sites it was selling at Rs. 12.
At the Economic Centre, a kilo of cabbage was Rs. 4, beetroot was Rs. 25 to Rs. 30, turnip was Rs. 23 to Rs. 25 and carrot from Rs. 50 to Rs. 58. However, at the sites it was much cheaper, with a kilo of carrot selling at Rs. 15 to Rs. 20.
"I am a retired police officer and cultivate about 80 perches of vegetables. I am supposed to harvest a crop of about 4,000 kg of leeks. A kilo of leeks has dropped to Rs. 10 –Rs. 12. I have spent over Rs. 150,000. Last year, I had a profit of about Rs. 300,000, but this time I cannot sell my crop", A.P. Liyanage from Katumana, Nuwara Eliya said.
"In our village, cabbage is purchased from us at Rs. 8 to Rs. 10. Authorities should intervene to solve the problems of the farmers", he said. Delin Guruge of Dharmapalapura, Ruwaneliya, said that it would be better to give up cultivation altogether.
"The labour cost is very high. We spend about six months on cultivation and then find it difficult to sell our crops", he said. P. Selvakumar of Kandapola said "In my village, leeks harvest has been abandoned, and they are rotting.