There is an aura of confidence in the CR&FC. They have no foreigners turning out for them because the SLRFU has given this option only to clubs who have fared badly last season. The Longdon Place Club has been in the forefront of rugby during the last decade emerging runners-up in the Caltex A Division competition for the past seven years in-a-row from 2004 to 2010.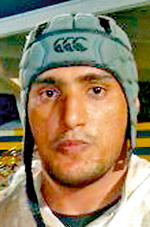 Dushantha Lewke (CR Capt)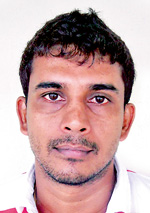 Rohan Chinthaka (Manager)
Leading the side for the second successive year is former Royal and Sri Lanka third rower Dushantha Lewke. He was an outstanding schools rugby player at Royal and was awarded the Rugby Crown, a rare achievement. He was a regular member of the Sri Lanka junior rugby team (Under 19) when Sri Lanka qualified for the Youth World Cup in Chile 2000 where the local side did extremely well and was an automatic choice for the national side for nine consecutive years. Presently he is the most capped player in the National Squad. Lewke also led the team at the Taiwan Asian Championships and under his leadership held Singapore to a 20 all draw after having led 20-13 until the dying moments.
Lewke has also played in New Zealand for two seasons in 2005 and 2006 and turned out for the Division One team Spots Wood United. Whilst in New Zealand he had played with rugby greats such as All Blacks hooker Andrew Hore and Chris Masory. He has also been trained by All Blacks Sevens trainer David Gray. When looking at the impressive list of CR skippers listed at their club house, perhaps Lewke can be classed as one of the greatest players produced by this elite rugby club.
Last year the Red Shirts missed the A Division League Title by 0.50 points after being edged out by Kandy SC who had managed to score more tries. Last year CR won seven matches out of nine in the A Division League losing only to Kandy at 12-26 in Nittawela. Their game against the Navy was abandoned due to lightning when the game was 24 minutes old. Navy led 5-3 at that stage. They were also knocked out of the semi-finals of the Clifford Cup by the Navy at 19-12 during extra time. CR however clinched the Sevens Title after 15 years defeating Air Force 21-19 in the final.
Coach cum Manager of the CR Rohan Chinthaka touched on the controversial subject of Rugby Referees this season by saying, "Referees have made mistakes this season. Maybe this happens overseas as well. I cannot mention a solution. Perhaps the referees should be experienced and versatile schoolboy players. There are so many senior and qualified officials in the rugby scene. Perhaps they should be able to bring about a solution to the matter."
When questioned about drugs which had seeped into rugby Chinthaka said: "Perhaps there is something wrong with the present generation. It is a fast changing world and there is this will to do well at all costs." Chinthaka is an old Isipathanian full back having turned out for his alma mater in 1990 and then donned the CR jersey from 1991 to 1998. His brother Heshan Pathirana is the Royal rugby skipper this year. Jeevan Goonetilleke, the ex-Thomian Captain is the other coach for the Red Shirts.
This season the CR lost to Police, drew with Navy at 18-18 and beat the Havelocks. Against the Navy Dushantha Lewke had an outstanding game and scored the try of the game. The side is sponsored by Hong Kong and Shanghai Banking Corporation.
There is whole lot of talent at Longdon Place. The impressive CR list includes Shehan Dimuth, Mohammed Rizwan, Dunstan de Silva, Ishan Noor, Haritha Perera, Sharo Fernando, Gayan Rathnage, Chilanka Samaraweera, Dushantha Lewke (Capt), Srinath Sooriyabandara, Radeesha Ranjan, Reza Mubarak, Shabir Mohammed, Niroshan Karunanayake, Muhsin Faleel, Ashan De Costa, Lasintha de Costa, Viswamithra Jayasinghe, Nuan Chamara,Heshan Gooneratne, Mohammed Sheriff, Praneeth Asthika, Niroshan Fernando, Anjula Perera, Chamath Munasinghe and Tharindu Hasaranga.
Then there are the experienced players such as Ashan Karthelis, Zulki Hamid also on hand.