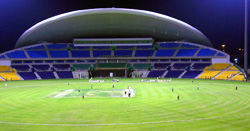 The Sri Lanka's away series against Pakistan now has been finalised to be played Abu Dhabi following Sri Lanka's series against Australia next month.
According to a top spokesman of Sri Lanka Cricket, the cricket managements of both countries have agreed on principal about the location, but the Pakistan authorities are now in the process of fixing up the dates for the three test matches and five one-day internationals which are on the ICC's Future Tours Programme.
According to SLC sources the finalised dates will be known next week. Meanwhile the pruned and battered Sri Lanka Provincial T-20 tournament now has been cut down from the original seven to five.
Originally the seven teams were Kandurata 'Kites', Ruhuna 'Rhinos', Negenahira 'Nagas', Uva 'Unicorns', Basnahira 'Bears', Wayamba 'Wolves' and Uthura 'Oryxes' were in the fray, but it is very likely that the teams from Uthura and Negenahira will be done away with the toning down of the tournament.
However the tournament will be worked off from the 21st to the 31st of this month with all matches being worked off at the Premadasa International Cricket Stadium. With the national 'A' team away in England during this period the national selectors are still having a difficult time in finalising five balanced team. The selectors met once on Friday and are scheduled to meet again tomorrow and come up with the final line ups.
The much taunted Sri Lanka Provincial T-20 cricket tournament which was to be staged with much pomp and pageant had to be postponed by a year after Board of Control for Cricket in India (BCCI) pulled out their players from taking part in the tournament which resulted in ESPN 'star'– the TV giant who was to back the tournament also pulling out.