Sri Lanka Army ended their 42-year long wait to realize their FA Cup Championship dream after shooting down Don Bosco 2-0 at City League Complex in Colombo yesterday. The much deserved win was crafted by national cap striker Mohamed Izzadeen who was the player of the day.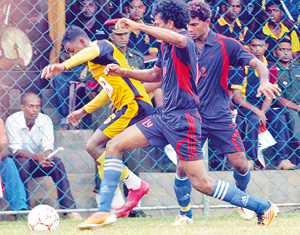 An Army SC player (in yellow) vies for the ball with two Don Bosco defenders. (Pic by Ranjith Perera)
The Soldiers won the Holcim FA Cup and a handsome cash award of Rs. 700,000 while Don Bosco who spoiled their own show pocketed Rs. 500,000 as prize money.
Played before a packed stadium which was a rare sight in present day football, the soldiers played with plenty of grit to give their supporters a rare display of football. Army who maintained a successful winning streak fielded an unchanged side as against Old Bens, New Youngs and Police where they emerged with thumping victories in the knockout stages.
The Soldiers who reached the FA Cup final for the fourth time were greatly inspired by their solid set of defenders and midfielders while giving the strikers the perfect opportunity to put the finishing touches.
Don Bosco had the early advantage of drawing first blood in the 22nd minute through a penalty but skipper Manjula Kumara's target was way off the mark as Army custodian Sirisena watched the ball shoot wide past the net.
Ten minutes later striker Izzadeen found an opening and sent the ball towards the net which easily went past the Don Bosco goalkeeper Chinthaka. Don Bosco attempted to overturn the game in their favour but could not revamp their spirit against the much improved Army. They enjoyed a 1-0 lead at half time.
After the turnaround Izzadeen struck again in the 43rd minute as he had the privilege of shooting his second goal of the game as Army took the lead by 2-0. Izzadeen missed a well deserved hat-trick in the dying stages of the game as both teams contested with great keenness. During the second half both teams approached to the game with a bit of a variation but most of the time failed to execute their plans to a perfect finish.
The second half however ended after a goalless stiff competition eventually giving Army their second title win in the history. Army last won the FA Cup championship in 1969 and reached the final in 1981 and 2009. Nearly 115 teams contested for the FA Cup championship this year.