US based Christine Sonali Merrill did Sri Lanka proud when she clinched the country's second bronze medal of the 19th Asian Athletic Championships by producing a stunning final surge in the 400 metres hurdles last night at the Universiade Stadium here in Kobe, Japan.
Trailing at fifth after the final hurdle, Merrill shifted a gear in the final sprint to the line and finished in a time of 57.30 which was below her record breaking time in the previous round and importantly failed to earn her an automatic qualification for World Championships or the Olympics.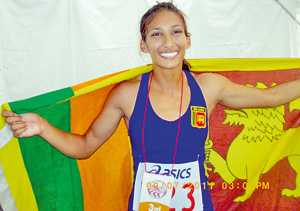 Sonali Merrill
She was however far from disappointed. "I am really thrilled with my run. I was able to do really well in the last phase of the race. I was hoping to do a bit better than the previous round, but things didn't happen that way" said a smiling Merrill while holding the Sri Lankan flag high after the final.
"I had some stumbling at the back straight and that's why I was unable to reach the time I aimed for. But Overall I am highly satisfied with my run. This would be special as it is my first international medal for Sri Lanka" Merrill said.
Merrill, the only Sri Lankan currently holding a position in the IAAF rankings finished third in the first round race on the previous day in a time of 56.83 seconds which set a new Sri Lanka National record that also bettered the existing South Asian record.
Sonali herself held the previous national record of 58.40 seconds which she set on April 16 this year when she participated at the 53rd annual Mount Sac Championship at the Hilmar Lodge Stadium in Walnut, California.
Twenty-two year old Merrill needed to better the first round performance in the final by just a few hundredths of a second to reach the qualification mark of 56.55 seconds for next month's World Championships in Daegu, Korea and also the 2012 London Olympics.
"My main aim was to shave those few fractions of a second from my timing. It did not happen, but I still have time to achieve it and I am confident that I will definitely do it" said Merrill who confirmed that she would travel to Sri Lanka to take part in the National Athletic Championships to be held in Colombo from August 4 to 7.
None of the Sri Lankan athletes have so far qualified for the Worlds or Olympics this season.
The previous day's mark was also a personal best for the new Sri Lankan sensation and the margin of nearly one and half second with which she bettered her previous mark came as a stunning effort and offered much promise to Sri Lanka's future.
Sprinters Shehan Ambepitiya and Chandrika Subashini were only two other Sri Lankan athletes in action yesterday and both of them qualified for the next round of the 200 metres event with ease.
Subashini who ran in Heat number three of the first round, finished second in a time of 24.17 seconds to gain an automatic qualification.
"This is not my strong event. But I gave it my best. I couldn't do what I expected in the 400 so I am determined to do something at least in this event. I will try my best in the final" she promised.
Subashini had been down with fever as she ran the first round and final of the 400 metres where she was the favourite for the gold as she had been ranked number one in Asia by the IAAF based on the seasonal timings, coming into the Championships.