In one of the best school games seen for a long time Royal College came from behind not only to beat St. Peter's College but also moved inches closer towards winning the Singer League 2011. Royal won in the end by 50 Points (8 Tries, 2 Conversions, 3 Penalties) to 41 Points (7 Tries, 3 Conversions) At the short breather it was St. Peter's who led 24-21. The match was played at Bambalapitiya yesterday.
This was simply an amazing game which turned from one side to another. Royal led by pack leader Shehan Pathirane commanded his troops and took them to victory with fine leadership and skillful rugby. He was threatening in his moves which shattered the Petrite defense.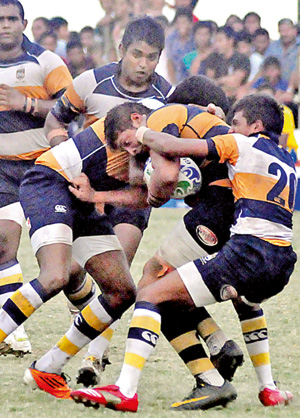 Move out of my way. A Royal player attempts to break though the Peterite defense. - Pic by Mangala Weerasekera.
The battle was between the Petrite three quarters and Royal Forwards. While in attack Peterite three quarters were lightning fast. In some cases their tries were scored unopposed. For St. Peter's Danushka Ranjan was outstanding. He was omnipresent and ran circles around the Royal line. Peterites took the field minus three of their regulars including their star player Bhanuka Nanayakkara who was injured at the recent Junior Rugby Asiad in Hong Kong. Royal drew first blood very early in the game when their play maker and skipper Shehan Pathirane went through the shell shocked Peterite defense. Minutes later St. Peter's scored through their winger Bhanuka Peiries which was converted by Rizwan Meedin.
After a few powerful runs Royal went ahead when their winger Rimzi Jamaldeen crashed through to score and take the lead 10-7. But it was short lived as star of this year's school league and highest try scorer Dhanushka Ranjan ran more than 40 meters to score which put St. Peter's in the lead at 12-10.
Royal Fly half Arshad Jamaldeen who had an off day with the boots was on target with a penalty kick at goal after missing several earlier attempts.
But Peter's struck back through centre Dulaj Perera who scored a try (Peter's 17-13). Royal skipper Sehan Pathirane who played an outstanding game scored next to take lead by a point (Royal led 18-17). Arshad Jamaldeen took Royal further ahead through another 35 meter penalty kick at goal. On stroke of half time Petrite centre Sandun Herath took St. Peter's ahead through a superb three quarter try to take "Lemons" at 24-21.
In the second half Royal scored through Adil Jabbar, Lahiru Pavithra, Shehan Pathirane (2) and Rimzy Jamaldeen. The Petrites scored through Dhanushka Ranjan (2), Anuradha Herath and Dulaj Perera. Royal College remained unbeaten in the School Season and if they beat Science College next Saturday they will win the League after a lapse of 2 years.
Referee Dharmapala Nimal. In the under 16 game St. Peter's beat Royal 12-0.