Four persons have been arrested in connection with a credit card scam where credit card data was secretly recorded using a mini-skimmer – an electronic reader, and later used to produce counterfeit credit cards.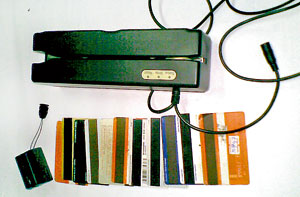 Some of the seized items used to forge credit cards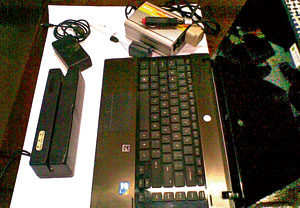 Investigations were launched by the Criminal Investigations Department (CID) early last month after at least three private banks complained that customers had lost over Rs. three million as per their statements for transactions they had not personally carried out.
Investigations revealed that the data had been skimmed from cards used at fuel stations. The breakthrough came when a bank detected an illegal transaction on April 8 from a filling station in the Ratmalana area, where petrol to the value of Rs. 25,000 had been pumped. A CID official in the area was alerted, leading to the arrest of the person who purchased the fuel on a forged credit card.
The suspect was in possession of as many as seven credit cards.
Further investigation led to the arrest of another key suspect living in Kalawanchchikudy, from whom the CID recovered a laptop, forged credit cards and mini-skimmers. The suspect on questioning revealed that he had sub-agents in the Beruwala and Ratmalana areas to coordinate the operation with a fuel station attendant, who recorded credit card data using the mini-skimmer.
"The mini-skimmer is a small electronic device which can be attached to the clothing," a CID officer explained. The chief suspect claimed that he had got the mini-skimmers from a person returning from Canada.
Further investigations are under way. "Our warning to the public is that when you use your credit, try to ensure that the card is swiped in your presence. If the card is taken away to be swiped outside your field of view, you run the risk of your card being misused," an officer explained.