The Episcopal Ordination and Installation of Rev. Dhiloraj Canagasabey as the 15th Bishop of the Diocese of Colombo will be held on Saturday 14 May at 9 a.m. at the Cathedral of Christ the Living Saviour, Bauddhaloka Mawatha, Colombo 7.
The consecrating Bishops will be Rt. Rev. Duleep de Chickera --the outgoing Bishop-- Vicar General and Archbishop's Commissary, the Rt. Rev. Shantha Francis, Presiding Bishop of the Church of Ceylon and Bishop of the Diocese of Kurunegala and the Rt. Rev. S. Paul Sarker, Bishop of Dacca.
The Archbishop of Canterbury, Dr Rowan Williams has appointed the Rt. Rev. S. Paul Sarker Bishop of Dacca as his Legate and will be exercising Metropolitan Authority.
The consecration will be attended by senior clergy from Anglican and other member Churches of the National Christian Council, as well as representatives of the Roman Catholic Church.
Many local and foreign dignitaries, diocesan councillors and representatives of Churches in the dioceses of Colombo and Kurunegala will also participate in the ceremony.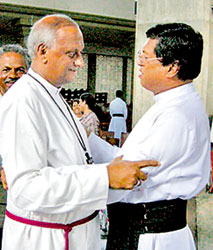 Rev. Dhiloraj Canagasabey (R) with Rev. Duleep de Chickera (file pic)