The Lessons Learnt and Reconciliation Commission (LLRC) will look into the issues raised in the UN Panel of Experts' report and bear in mind its contents when compiling the final report, Commission spokesman Lakshman Wickremasinghe said.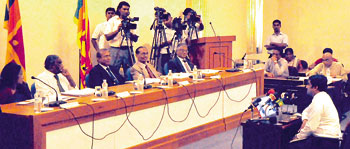 Dr. Chatura De Silva appearing before the commission
"However the final report of the LLRC will be based only on the evidence that it has gathered," Mr.Wickremasinghe said. The LLRC has sought an extension of six more months from its appointing authority, President Mahinda Rajapaksa, to compile its final report as its term lapses on May 15.
Mr.Wickremesinghe said that the reason the extension was sought had nothing to do with the publication of the UN report but was needed to clarify certain issues from witnesses who had testified before the Commission as well as to get the opinion of some experts on certain technical issues.
"Now that the UN report is in the public domain, we will definitely look into its contents," he said.
The Commissioners have been sifting through the large amount of evidence that has been gathered and have come across some areas where there needs to be more clarity,' he said.
The first such expert to appear before the Commission was Dr. Chatura De Silva, Senior Lecturer of the Moratuwa University's Department of Computer Science who came before it on Wednesday to testify on the authenticity of the controversial video aired by the UK television station Channel 4 in August 2009, but he chose to give evidence in camera due to the 'sensitivity' of the information he was going to divulge.
Dr. De Silva told the Commission that his presentation contains both 'sensitive information' as well as an extensive amount of forensic evidence and hence he preferred to give evidence in camera. He also said he had concerns about his personal security.
LLRC Chairman C.R.De Silva said that Dr. De Silva was asked to appear before the Commission to ascertain the 'genuineness' or 'falsity' of the video and was entailed to give evidence in public or in camera.
The video, the contents of which the Government claims have been fabricated shows the execution of several men by uniformed men. The video has been cited by the UN Panel of Experts to support its allegations of war crimes committed by Sri Lankan troops.