Last week we reported that the main causes of fatal road accidents were recklessness and drunk driving. Several tragedies subsequent to this report brought this to the fore once more. In one incident, six members of one family including an expectant mother, a five-year-old boy, a young girl, a 66-year old woman, and a newly married couple died when the van they were travelling in was involved in a collision with an oncoming speeding bus and plunged into the Kotaleeya canal in Manampitiya.
Suhada and husband Jahan

Rithik

Mother

Shakira

Fathima
Dr. M. Ashiq (36) a doctor practising in Oman was on vacation back home in Maradamunai, Kalmunai to spend time with his five-month pregnant wife Shakira (36) and son Rithik (5). After holidaying for about a month Ashiq left Kalmunai on April 29 in a van to Katunayake to take the return flight to Oman the following day.
He drove the vehicle and accompanying him were his pregnant wife and five year old son and relatives. Among the relatives were Shakira's niece Suhada and her husband Jahan, and Shakira's 66 year-old mother. Suhada and Jahan had got married in October last year. Another niece of Shakira's, Fathima was also in the vehicle.
According to A.M. Jalaldeen, father of Suhada, Ashiq, the only survivor of the accident, had told him that on seeing a speeding bus coming at them he had swerved the vehicle to aside but the bus hit it, throwing it into the canal. Ashiq's car door had flung open for the impact but the others had got trapped in the vehicle when it plunged into the water.
The grieving father said when his daughter's body was recovered her wristwatch indicated the time as 7.43 p.m. "I cannot bear to think that my daughter and son-in –law are no more. Ashiq too is suffering great mental anguish on losing his pregnant wife and son," he said.
According to Mr. Jalaldeen who was both Ashiq's and Shakira's science teacher at school in the advanced level classes Ashiq and wife were sweethearts from schooldays.
In another instance, a drunk bus driver robbed three teenage girls of their mother in a road accident.
Anthony Pillai Jesuratnam (50) and his wife Charlotte Vinitha Jesuratnam (47) were heading to Kurunegala from Colombo at 4.30 a.m. on May 1 along with Mrs. Jesuratnam's sister Mala who had undergone a hernia operation a few days before and her son, Sudheeshan (11) in a car, when tragedy struck.
"Vinitha wanted to be back to Colombo to attend a church programme at 3. p.m. the same day. We were on our way to Kurunegala to drop her sister Mala, after she underwent the operation in Colombo. Around 6.30 a.m. at Malkaduwawe a speeding bus lost control and hit a tree before hitting our car. My wife suffered a heart attack for the shock and passed away," said Jesuratnam, who despite sustaining injuries sat next to the body of his wife. Jesuratnam is the head of the Tamil section of St. Anthony's College in Wattala.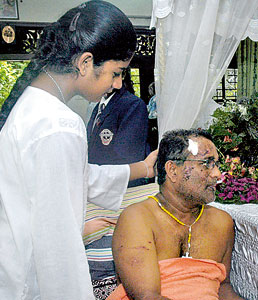 Anthony Pillai Jesuratnam being consoled by one of his daughters. Pic by Saman Kariyawasam
Mala, is receiving treatment at the Intensive Care Unit (ICU) of the National Hospital due to internal bleeding after the accident. Their driver Rajaratnam was admitted to the Kurunegala Teaching Hospital. Miraculously Sudheeshan escaped without injuries. But he is still in shock.
Vineetha leaves behind three daughters, Sarangi (19), Kalajini (17) and Harini (15), all students of St. Bridget's Convent, Colombo. Sarangi is to sit for her Advanced Level exam this year.
"When it came to studies we were fortunate as both of our parents were teachers. Our mother was our guide. She was a devout person and was a member of the church choir, novena group and did a lot of charity work. Most of all she was a loving mother. She was excited about our grandparents' 50th wedding anniversary and was organizing a family get-together," said a grieving Kalajini. Vinitha was the head of the Tamil Section of St. Anne's Girls School in Wattala since 1989. She also taught religion and music.
In another tragedy three people drowned on Wednesday when their vehicle was thrown into the Pugoda canal vehicle in a collision with a container truck. The victims were a businessman from Homagama and two others. According to Pugoda police the driver of the container truck and his assistant were arrested. Police said the driver was under the influence of liquor.
On Thursday, R. Kumara Premasiri (33), a resident of Ganemulla was killed and his wife critically injured when the motorcycle they were riding rammed into a private passenger coach on the Ganemulla Road, Kandana.
According to latest statistics for 2010, 2483 fatal accidents were reported among which the majority were due to speeding, overtaking and drunk-driving.