Foreign Secretary Karunatillake Amunugama has been listed as a witness for the Defence in the "White Flag' case against former Army Commander Sarath Fonseka to submit the UN panel report on Sri Lanka to the High Court Trial-at-Bar.
Besides Mr. Amunugama, MP Rajiva Wijesinha has also been listed as a witness for the Defence to submit to Courts a response he sent to a letter by Philip Alston from the UN and a second letter withdrawing the response.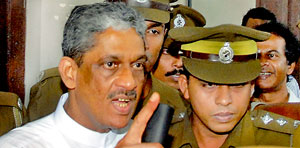 Sarath Fonseka leaving court on Wednesday. Pic by Sanka Vidanagama
Mr. Fonseka is charged with having stated in an interview with The Sunday Leader newspaper that the Defence Secretary had ordered not to spare any of the LTTE cadres surrendering during the last stages of the military assault on the guerrillas in May, 2009 even if they were coming forward carrying white flags.
He is charged for making a false statement to the newspaper, arousing communal and anti-government feelings among the public and creating disputes among them. The Trial-at-Bar consists of Judges Deepali Wijesundara (President), W.T. M. P.B. Warawewa and M.S Razeen.
At the outset of the proceedings Mr. Fonseka's Counsel, Niroshana Perera informed Courts that the Senior Defence Counsel, Nalin Ladduwahetti had to travel overseas suddenly and therefore moved for a postponement.
The Court agreed to the Defence request to include Dr. Wijesinha and Mr. Amunugama as witnesses and accordingly issued summons to appear in Courts on the next day. The next date of hearing is on May 12.