The Sri Lanka Press Institute organised a series of events including a workshop, a film festival and an inter-school trilingual oratorical competition based on the year's theme "21st Century Media: New Frontiers, New Barriers." to commemorate World Press Freedom Day,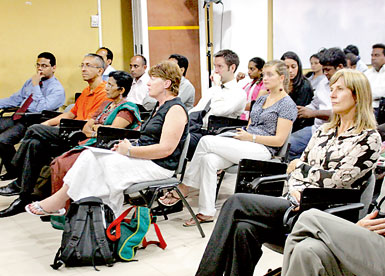 A section of the participants
The workshop held on Tuesday consisted of presentations from veteran British journalist Fiona Barton and two of Sri Lanka's leading exponents of new media, Dr. Rohan Samarajeewa and Nalaka Gunawardene. All areas of the media including citizen journalism, micro-blogging via cell phones, modern internet tools, journalistic ethics as well as barriers and new attempts to block, filter and censor information were discussed at the workshop.
Addressing the gathering, Ms. Fiona Barton said there have been many instances in recent times where bloggers and other new media users had exposed state corruption, revealed sensitive military details and diplomatic blunders.
"The number of bloggers has increased from 22 million in 2005 to 100 million in 2010. New media has contributed towards the rising tide of citizens' revolts in the Middle East she said. Ms. Barton said it was reported that in Egypt 45 - 50 tweets per minute were sent while in Syria around 30 -35 tweets per minute continue to be sent.
She added this had resulted in increased government surveillance and at present around 119 'netizens' (people actively involved in online communication) were imprisoned". Ms. Barton lamented most bloggers and new media journalists rarely followed journalistic standards and editorial practices.
"It is important to know that information by itself is not journalism. It is our duty to provide information together with analyses and explanations while maintaining discipline.
| | |
| --- | --- |
| | |
| Fiona Barton | Dr. Samarajeewa |
"Today there is hardly any genuine investigative journalism or research. It is important that the press while maintaining standards, should collaborate and embrace whatever is new," she added. Nalaka Gunawardena said the present information society faces issues of privacy and surveillance, fleeting attention, intellectual property rights and transparency.
Former Director General of the Telecom Regulatory Commission, Dr. Rohan Samarajeewa spoke of the contribution of the new media in the recent uprisings in the Middle East, as well as the restrictions placed upon new media.