Calm returned to the Maldivian capital Male yesterday after a week of violent anti-government protests against the rising cost of living and an opposition demand for President Mohamed Nasheed to step down.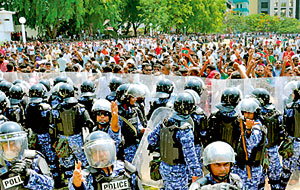 Protesters at Republic Square. Pic courtesy Haveeru Daily
The protest broke out after prayers on Friday, April 29 as hundreds of protesters clashed with police at the Republic Square in the capital. The protests were backed the Dhivehi Rayyithunge Party (DRP) or the Maldivian Peoples Party (MPP) backed by former President Mamoon Abdul Gayoom.
Nearly half a dozen people, including opposition MPs, were arrested following the clashes. Mr. Nasheed's government expressed serious concern over the protests since it was hurting the tourism industry, which is the country's largest foreign exchange earner.
Maldivian High Commissioner Hussain Shihab told the Sunday Times that opposition elements were using price increases to stoke unrest in the islands.