U.S. special forces killed an elderly cousin of Afghan President Hamid Karzai when they stormed a house in the south of the country. The soldiers carried out the raid on Wednesday night in the Dand district of Kandahar province after being dropped into the area by helicopter, Governor Hamdullah Nazek said.
Haji Yar Mohammad Khan was 'mistakenly' killed as he emerged from his house during the operation and an investigation has been launched into his death. Ahmad Wali Karzai, the president's younger brother and head of Kandahar provincial council, confirmed the death.
He said: 'While the operation was going on in the area, Khan walked out of his house and he was shot dead by mistake by ISAF forces outside his house.' He said Khan's house was not the target of the raid.
NATO-led forces said in a statement they had killed the father of a Taliban leader during a night raid in Kandahar, after they spotted him holding an AK-47 automatic rifle.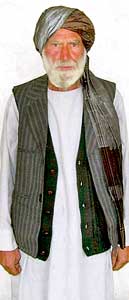 Killed: Yar Mohammad Karzai, the cousin of the Afghan president
A spokesman later said they were investigating the incident and the identity of the dead man, following reports he was a relative of Karzai, but declined to comment further. Mr Karzai's spokesman said the president -- who has long been a vocal critic of night raids -- knew the dead man personally, both as a relative and because they came from the same village.
'The president is sad to hear about another civilian casualty case, and has ordered an investigation,' spokesman Waheed Omer said. 'He calls on ISAF (the NATO-led International Security Assistance Force) to protect civilians rather than killing them.'
It comes after President Karzai strongly criticised foreign troops for causing excessive civilian casualties, especially in airstrikes and night raids. Last week, he rejected a rare apology from U.S. General David Petraeus -- commander of the NATO-led International Security Assistance Force -- after nine children were killed in eastern Afghanistan in an airstrike.
General Petraeus this week outlined several troop withdrawal plans to U.S. President Barack Obama.
He said there was a 26 percent drop in civilian deaths caused by coalition forces last year, despite an increase in fighting and more intense air and ground campaigns against insurgents. The UN blamed insurgents for 75 percent of the 2,770 combat-related killings in 2010.
Militants were responsible for 2,080 deaths, a 28 percent increase from 2009, while U.S.-led forces were said to have killed 440 people. President Karzai plans to announce the first areas outside Kabul that will be transferred to Afghan control in a speech on March 21, the start of the Afghan new year.
He said earlier this week he planned to name 'five or six places', but did not give any more details.
That transition is the key to providing an exit strategy for international forces, which hope to transfer full control to Afghan forces by 2014.
There are currently around 105,000 U.S. troops in Afghanistan, along with around 40,000 NATO troops from other countries.
Gen Petraeus said: 'We hope that by July we will have solidified and even expanded further the security bubbles, the security gains that have been achieved over the course of the last eight to 10 months in particular.'
© Daily Mail, London