Dear Kate,
Let me start by saying that no one should underestimate the pressure you must be under at this time.
The way you have carried out your first three official engagements with great poise and charm is an enormous credit to you, Kate, and also to your future husband.
But I suspect that behind the scenes, away from the limelight, these past few weeks have been hugely daunting for you. No doubt you're fast learning there is no handbook in the world that can advise you on how to prepare for becoming our future Queen.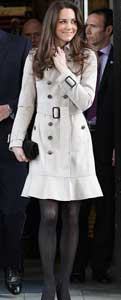 Alarmingly thin: Kate showed signs of weight loss when she visited Belfast earlier in the week
Add that to the pressure every bride feels in the build-up to her wedding - let alone one that will be watched by billions around the world - and the stress must be immense. My fear is it's taking its toll on you in a way that can no longer be ignored.
Your normally healthy, lithe and athletic body - the one that captured the Prince's eye when you wore that diaphanous dress on a university catwalk - has almost disappeared, along with your curves. And a comment you made to a housewife during a tour in Belfast on Tuesday gave the game away as to why.
When Heather Lindsay, 47, suggested you were too thin and implored you not lose any more weight, you replied it was 'all part of the wedding plan'.
A throwaway response, perhaps, but one that raises troubling comparisons. There may be no handbook on becoming part of the Royal Family, Kate, but the recent history of British princesses should provide you with ample evidence of where potential pitfalls lie. And the last thing you want to do is to end up like Diana on her wedding day, so fretful about the future and under so much pressure that her weight had plummeted alarmingly.
Back then, a world watched as the healthy figure of the laughing nursery teacher disappeared before our very eyes, as Diana morphed into that oh-so slim and nervous bride. Her wedding dress had to be taken in again and again during the build-up to the big day - from a 29in waist at the beginning to 23in at the end.
If it hadn't been for the vast confection of her ivory silk gown - the huge skirt disguising her spindly legs, the puffed sleeves to cover her thin arms and the frills to hide her almost non-existent bosom - we would have seen how dangerously thin Diana was on the day.
That was the beginning of her disastrous battle with bulimia, a spectre that haunted her right to the end. I pray to God you do not succumb to the same pressures - and the same temptations. However much Diana captivated the nation, and however much you may treasure her engagement ring that now sits on your finger, don't become like Diana. Don't let the pressure shrivel you up.
I'm not suggesting for a moment you have the same troubles she did. Your fiancé is not in love with someone else. There is no mistress waiting in the wings to destroy your marriage. I do not believe you are suffering from any kind of eating disorder.
You and William seem genuinely smitten with each other and so at ease when you go out on official engagements together. I can't remember when I've seen William looking as happy as he does these days. What a sharp contrast it has been to the awkwardness of Charles and Diana at the same stage of their engagement.
Yet the pictures of you on Tuesday were alarming, Kate. Yes, you still look radiant - beaming all the hope a bride has the right to feel in the run-up to her wedding. But those legs are worryingly thin. You look as though you've gone from a healthy size 12 at university to somewhere near a size 8. Perhaps even smaller.
As part of your wedding preparations, I hear you've even taken to training at Diana's favourite gym, the Harbour Club in Chelsea. There's nothing wrong with wanting to stay healthy. And, I repeat, there's no need to get things out of perspective. Most brides lose weight. I did. Even Fergie did. But Diana's weight loss was so sudden and dramatic it should have sounded a loud warning for all who loved her. One that should still echo, now that you find yourself in a similar position.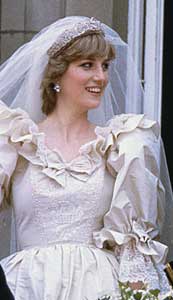 Dramatic loss: Princess Diana's
elaborate wedding dress disguised how thin she had becom
The trouble is, losing weight can become addictive. I know what it's like, having lost almost two stone a couple of years ago during a painful break-up. I celebrated each dress size that vanished. I ignored the fact that in the process my knees became so bony that I had to sleep with a pillow between them at night to stop them hurting as they rubbed against each other.
My bosom disappeared, along with my bottom. One colleague later commented that it was so sad watching someone vibrant disappear before their eyes. Yet, at the time, I thought I looked great. My weight loss became an expression of control at a time when so much else in my life was unsettled.
It was only when I was in my swimming costume one day and I turned round to speak to a male friend and saw he was gawping at me that I realised how thin I was. And not in a flattering way: he was staring at my flat bottom with a look of pity that was part incredulity, part horror.
So yes, Kate, I know from how easily a woman can slide from losing a few pounds into a worrying and compulsive cycle of weight loss. All the more so when they are facing the pressures and public attention that you are being exposed to.
What troubles me particularly is whether you are getting the support and protection you deserve from the Palace. For if past experience of the way the Firm grooms its future princesses is anything to go by, the courtiers will be far more interested in what you can do for them, than what they can do for you. It is certainly worrying the Palace has thrown you in at the deep end with so many formal events so quickly after your engagement. You've hardly had time to draw breath.
The leaked wedding list, the silly website tracking every step you take, the childhood pictures released this week. They all suggest an eagerness to exploit the glossy allure you have brought to royalty at a time when others in the family have brought the whole institution into such disrepute. And it seems those courtiers have learned nothing. Already, like Diana, you are being portrayed as a fairy-tale princess, building up public expectations that no mere mortal can possibly meet.
The Palace must allow you to blossom in your own time. Otherwise there will be nothing left of you. Quite literally. Because that truly stunning figure you once had is already paying the price at a time when the only thing that truly matters is that you stay healthy and happy.
You have a wonderful, loving and privileged life ahead of you, Kate. I will be cheering as loud as any one on the day. Yes, there may be anxieties and slip-ups along the way. But I urge you to worry about the truly important things ahead - and not your waistline.
Yours respectfully;
p.s. I'll send around a box of Fortnum & Mason champagne truffles to get you started.
© Daily Mail, London