CHENNAI (IANS): AIADMK chief J. Jayalalithaa has termed the muscle-flexing by Tamil Nadu's ruling DMK while negotiating sharing of seats with the Congress as a 'drama', noting that party chief M. Karunanidhi has done the same while seeking berths in the central government after the United Progressive Alliance (UPA) retained power in 2009.
'We saw this happen earlier at the time of ministry formation at the centre in 2009. Karunanidhi flew to Delhi. He put forth his demands. When the Congress leadership resisted, he flew into pretended rage. He returned to Chennai, apparently in a huff, with all his MPs in tow, boycotting the swearing-in ceremony of the Prime Minister,' Jayalalithaa said, in a statement issued here.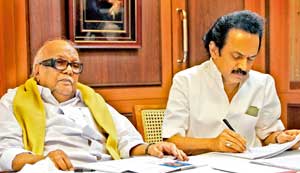 M. Karunanidhi (L) Chief Minister of the southern Indian state of Tamil Nadu and leader of Dravida Munnetra Kazhagam (DMK) party attends a meeting besides his son M.K. Stalin, a DMK leader and deputy Chief Minister of Tamil Nadu state, at party headquarters in Chennai March 8, 2011. India's Congress party and a key ally appeared closer to a deal this week to keep the ruling coalition with a parliamentary majority after threats to quit the government sparked worries of instability in Asia's third-largest economy. REUTERS
The bluff paid off and Karunanidhi got plum ministerial berths for his son M.K. Azhagiri, his nephew Dayanidhi Maran and his favourite daughter's close associate, A. Raja, she added.
Referring to DMK's recent threat of quitting the central government over differences in sharing of seats for the April 13 polls with the Congress, Jayalalithaa said: "Karun anidhi does not threaten to pull out of the central government over issues like the killings of innocent Tamils in Sri Lanka or when Karnataka refuses to give Tamil Nadu its due share of Cauvery river water or when Kerala refuses to implement Supreme Court's directive on Mullaperiyar dam or when the centre increases the fuel prices."
Karunanidhi is content with writing letters to the prime minister on these issues, she said. "But when he wants plum ministerial postings for his children and sundry relatives, when his near and dear ones are likely to be picked up by the CBI (Central Bureau of Investigation) for siphoning away national resources, then Karunanidhi will put up a show of bravado citing some other reasons. And the Congress leadership will put up a show of defiance to fool its innocent grassroots cadres and then capitulate, giving the impression that the week-long face-off was for the sake of two or three legislature seats," she added.
DMK-Congress seat identification talks remain inconclusive
CHENNAI (PTI): For the second consecutive day, talks between the DMK and Congress to identify the 63 constituencies the latter will contest in the April 13 Tamil Nadu Assembly elections remained inconclusive on Friday.
The two parties failed to finalise the constituencies and were scheduled to meet again yesterday. Speaking to reporters at the end of the fourth round of talks, TNCC president K V Thangkabalu asserted that there was no delay in finalising the constituencies.
"It is a process which has to continue. There is no delay. We will come back tomorrow morning... We are happy," he said at the DMK headquarters Anna Arivalayam here. He also said there was nothing happening on the other side, apparently referring to the deadlock persisting in AIADMK-led combine over allocation of seats to MDMK and Left parties.
So far, the AIADMK had concluded seat-sharing pact with actor Vijaykanth-led DMDK allotting 41 seats besides giving a few seats to some smaller parties. Under the seat-sharing agreement reached between the two partners of the UPA on Tuesday, the Congress will contest 63 seats and DMK 121 in the 234 constituencies in Tamil Nadu. Congress sources had earlier indicated that the present exercise would be concluded by this evening.