Cambridge is the most highly regarded UK university in the world, according to new research. The prestigious institution came third in a table ranking universities exclusively on their reputation among academics worldwide.
The UK had two institutions in the top 10 -- along with Cambridge, Oxford University was placed sixth.
The United States dominated The Times Higher Education world reputation rankings, with seven institutions in the top 10.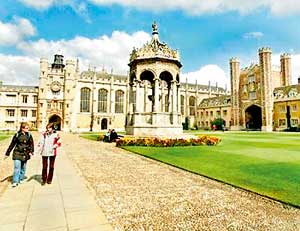 Britain's finest: Cambridge University, with Trinity College pictured here, is the third best regarded university on the planet
The only other country to make the top 10, besides the U.S. and UK, was Japan, with Tokyo University in eighth place. The world-famous Harvard University in the U.S. topped the rankings, followed by the Massachusetts Institute of Technology, also a U.S. university.
In total, the U.S. had 45 universities in the top 100, while the UK had 12 and Japan had five. These three nations were the best represented in the rankings. Canada, Australia, Germany and the Netherlands each had four universities in the top 100.
The table is published at a time when university reputations have been placed under the spotlight.
Just last week, Sir Howard Davies, director of the London School of Economics (LSE), resigned over the university's links to the family of Libyan dictator Colonel Muammar Gaddafi.
He said in a statement he recognised that LSE's reputation had 'suffered', meaning he must step down.
The LSE came 37th in today's list. Phil Baty, editor of The Times Higher Education world university rankings, said: 'In an ever more competitive global market for students, academics and university administrators, and at a time when the answers to the world's most pressing problems will come from putting together the best brains wherever in the world they may be based, a university's reputation for academic excellence is crucial.'
The rankings looked at universities reputations for world-class performance in teaching and research.
It is based on a survey of 13,388 academics from 131 countries, carried out in 2010 by Ipsos Media for the Times Higher Education magazine's ranking-data supplier Thomson Reuters.
THE TOP TEN UNIVERSITIES
1 Harvard University U.S.
2 Massachusetts Institute of Technology U.S.
3 University of Cambridge UK
4 University of California Berkeley U.S.
5 Stanford University U.S.
6 University of Oxford UK
7 Princeton University U.S.
8 University of Tokyo Japan
9 Yale University U.S.
10 California Institute of Technology U.S.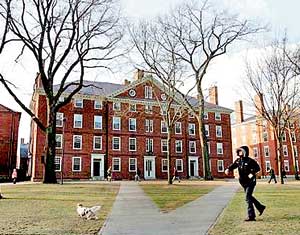 World beater: Harvard topped a poll ranking universities on their reputations among academics worldwide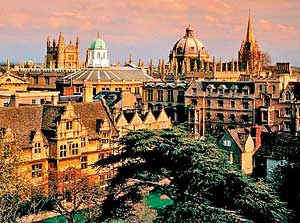 Beaten by the old enemy: Oxford University is not as well regarded as Cambridge, a new poll suggests
© Daily Mail, London