She knows she faces fierce competition from other models desperate to represent Great Britain at the Miss Universe contest. But Shanna Bukhari also faces another battle - against religious zealots who have told her she should 'rot in hell'.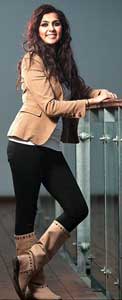 Making history: Shanna Bukhari hopes to become the first Muslim to represent Great Britain at the Miss Universe competition
For Miss Bukhari, 24, is hoping to make history by becoming the first Muslim to represent Great Britain at the beauty pageant. And she is hoping to send out a message that beauty competitions should not be off limits to Muslim women.
Miss Bukhari, from Manchester, said: 'I want other girls from Muslim communities to feel they can do this. There is so much more to it than looking pretty and as the competitions adapt, so must we. My family is right behind me and I have had support from many others on Facebook - including friends who wear headscarves - after I set up a campaign.'
She has agreed, like all other competitors, to take part in the swimsuit section of the contest but says there are some who have reacted with fury to the idea. She said: 'Three men wrote that they would not support me because what I was doing was sinful. 'They said I should rot in hell which is pretty shocking.
'But they contradict themselves by going out clubbing, drinking and smoking.'
She added: 'I have had amazing support from the Asian/Pakistani community right across the UK and they want me to do well. 'These competitions are not just about beauty, they are about brains and personality as well.'
Miss Bukhari was born in Blackburn and studied English literature at Bolton University. Her brothers and sisters and her parents all support her bid for the title. She got through to the British final after qualifying from Miss Universe Asiana, a competition for Asian women living in the UK.
The winner of Miss Universe GB at the ICC Birmingham on May 1 will go on to the final in Sao Paulo on September 12
© Daily Mail, London