MINAMISOMA, Japan, March 12 (AFP) - An explosion and feared meltdown at one of Japan's nuclear plants today exposed the scale of the disaster facing the country after a massive quake and tsunami left 1,000 feared dead.
Reactor cooling systems failed at two plants after Friday's record 8.9-magnitude earthquake hit, unleashing a terrifying 10-metre (33-foot) wave that tore through coastal towns and cities, destroying all in its path.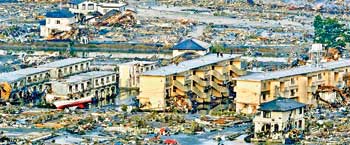 Smoke rises from a residential area following Friday's earthquake and tsunami in Sendai, northeastern Japan. REUTERS
Smoke was seen billowing from the Fukushima No. 1 atomic plant about 250 kilometres (160 miles) northeast of Tokyo after an explosion at the ageing facility destroyed the walls and roof, reports said.
The blast reportedly left several workers injured.
Kyodo News agency said radioactive caesium had been detected near the site, quoting the Japanese nuclear safety commission. Radioactivity rose 20-fold outside, reports said. The plant "may be experiencing nuclear meltdown", Kyodo and Jiji reported before the explosion, while public broadcaster NHK quoted the safety agency as saying metal tubes that contain uranium fuel may have melted.
The cooling system of the plant was damaged in the massive earthquake that struck the region 24 hours earlier, leaving authorities scrambling to fix the problem and evacuate more than 45,000 residents within a 10-kilometre radius.
Thousands were also evacuated from near a second plant, Fukushima No. 2, which also suffered damage to its cooling system. The atomic emergency came as the country struggled to assess the full extent of the devastation wreaked by the massive tsunami, which was unleashed by the strongest quake ever recorded in Japan.
The towering wall of water pulverised the northeastern city of Sendai, where police reportedly said 200-300 bodies had been found on the coast. More than 215,000 people were in emergency shelters, police said.
The full scale of those left homeless was believed to be much higher, with police saying they had not received a tally from Miyagi prefecture, the hard-hit province that is home to Sendai. "What used to be residential areas were mostly swept away in many coastal areas and fires are still blazing there," Prime Minister Naoto Kan said after surveying the damage by helicopter.
The unstoppable black tide picked up shipping containers, wrecked cars and the debris of shattered homes and crashed through the streets of Sendai and across open fields, forming a mud slick that covered vast tracts of land.
"There are so many people who lost their lives," an elderly man told TV reporters before breaking down in tears. "I have no words to say."An AFP tally compiled from national and provincial police data put the confirmed death toll at least 703."It is believed that more than 1,000 people have lost their lives," said Chief Cabinet Secretary Yukio Edano.
"The damage is so enormous that it will take us much time to gather data," an official at the police agency told AFP. Authorities said more than 3,000 homes were destroyed or swept away and tens of thousands of people spent the night in emergency shelters.
The tsunami obliterated Rikuzentakata, a coastal city of some 23,000 people, the Fire and Disaster Management Agency said. In the shattered town of Minamisoma, Sayori Suzuki, a 34-year-old housewife, recalled the utter horror of the moment the quake hit. "It was a tremor like I've never experienced before," she told AFP. "Things just flew from the shelves." "My house is okay, but a relative's house was washed away."
Some 50,000 military and other rescue personnel were pushed into action to spearhead the Herculean rescue and recovery effort with hundreds of ships, aircraft and vehicles headed to the Pacific coast area.
Army helicopters airlifted people off the roof of an elementary school in Watari, Miyagi prefecture.
The towering wave set off alerts across the Pacific, sparking evacuations in Hawaii and on the US West Coast.
Chile said it was evacuating coastal areas and Ecuador's state oil company announced it had suspended crude oil exports due to risks posed by the tsunami. The Bank of Japan said it would do its "utmost" to ensure the stability of financial markets after the quake brought huge disruption to key industries.
Major manufacturers including Toyota, Nissan and Sony were forced to suspend production at some sites, raising short-term concerns for the nation's struggling economy. In quake-hit areas, 5.6 million households had no power today and more than one million households were without water. Telecommunications networks were also hit.
Leading international offers of help, President Barack Obama mobilised the US military to provide emergency aid after what he called a "simply heartbreaking" disaster. The United States, which has nearly 40,000 military personnel in Japan, ordered a flotilla including two aircraft carriers and support ships to the region to provide aid.
The quake, which hit at 2:46 pm (0546 GMT) and lasted about two minutes, rattled buildings in greater Tokyo, the world's largest urban area and home to some 30 million people. Millions were left stranded in the evening after the earthquake shut down the city's vast subway system.
But with small quakes felt every day somewhere in Japan, the country is one of the best prepared to deal with the aftermath of such a calamity. "If there is any place in the world ready for a disaster of the scale and scope of this historic calamity, it is Japan," said Stacey White, senior research consultant at the Centre for Strategic and International Studies.
In a rare piece of good news, a ship that was earlier reported missing was found swept out to sea and all 81 people aboard were airlifted to safety. But mostly the picture was one of utter devastation. The tsunami submerged the runway at Sendai airport, while a process known as liquefaction, caused by the intense shaking of the tremor, turned parts of the ground to liquid.
Hours after the quake struck, TV images showed huge orange balls of flames rolling up into the night sky as fires raged around a petrochemical complex in Sendai. A massive blaze also engulfed an oil refinery near Tokyo.
Nearly 24 hours after the first, massive quake struck just under 400 kilometres northeast of Tokyo, aftershocks were still rattling the region, including a strong 6.8 magnitude tremor on Saturday.