Shehan Fernando, the right-handed opening batsman of St. Peter's College Colombo is a promising youngster who could make the baptism in the international arena at an early age. Shehan (17) was never a key figure in the junior age groups of St. Peter's cricket but made his presence felt with a first XI debut hundred two seasons back.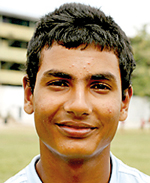 Shehan Feranado
At the age of 16, Shehan won the best batsman's award at the 76th Battle of the Saints encounter between St. Peter's and St. Joseph's with a blistering 83 off 68 balls in 2010. Despite failing to score many runs in the first innings of this year's encounter he slammed an unbeaten 159 in just 151 balls and was well set to break the batting record which was 204 not out by Clive Inman before rain interrupted his run feast.
Last year after stealing the limelight as a rookie Shehan set himself a goal to reach the milestone of 1000 runs during the season but was left 10 runs short after playing in 13 matches. "With the big match my tally has reached 990. It's a bit disappointing to come so close and not get there but this is not the end of the road. I can play another season and I will reach that 1000 runs," said an ambitious Shehan.
Strangely Shehan's father Sajith Fernando was a top opener during his school days and at the premier club level. But his father became one of the talented cricketers from the lost generation who failed to break into the Sri Lanka team. Sajith who is one of the top openers in the game to achieve over 10,000 ?rst-class runs played at the highest level in cricket and captained the Sri Lanka 'A' team. He retired from ?rst-class cricket at the age of 38 and took up coaching at S. Thomas' College last year.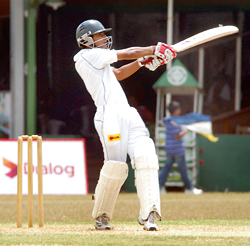 Despite having great ambitions in the game the nightmare his father had to see throughout his playing career slightly pulls Shehan back in making bigger steps in cricket. But with all the emotional barriers Shehan's bat continues to do the talking when he dominates the pitch.
"Our whole family is proud of what I have been doing in cricket as a youngster. But back of their minds they are seriously concerned about my career future thinking that I may go through the same fate as my father did. I too get worried many a time but during my lifetime I have seen my father face all the odds with a simple smile. That gives me the strength to carry on," Shehan added.
Shehan has a penchant to strike from the first delivery he faces in an innings as his idol of the game Virender Sehwag of India. Only at a few occasions has he failed to capitalize but once Shehan gains the confidence to bat freely he explodes and ends up with a massive knock.
"I had that free feeling when I batted last week at the 77th Battle of the Saints. I was positive of reaching the 1000 runs mark and setting a new batting record at the big match. But Mother Nature had the final say when the match was stopped with 20 overs of play to spare. Now I will have to wait till the next season to achieve that," the elegant stroke maker said.
With a cricket loving family around him, Shehan's entire day is spent on the game. His father being a coach of a rival school in a way is challenging and helpful. He also has a big dream of playing along with his father, probably open batting with the veteran Sajith Fernando for a same club.
"Few weeks back when St. Peter's played against S. Thomas' my father threw me a challenge. He said that his team would have me out cheaply and my challenge was to survive. I went on to score back-to-back half centuries and after the match my father smiled at me saying he was happy and sad for the same reason. He was sad because I could not score a hundred on both innings and was happy that my innings did not last to damage his side.
I have this dream to play in a club match with my father and when he retired from playing I was a bit disappointed. It would have been really fun to open an innings with my father," said an amused Shehan.