Aiming at helping recent graduates of the first batch of Nursing at the University of Sri Jayawardenapura to obtain Master's in Nursing (MSN) at the Hawaii Pacific University USA, Scholarships for USA (Pvt) Ltd (www.scholarshipsforusa.com) recently arranged for some of them to meet with Lindsey Garbenis its visiting Associate Director Internat ional Admissions (www.hpu.edu).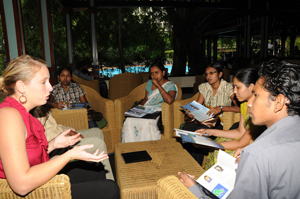 HPU offers two graduate nursing programmes - Community Clinical Nurse Specialist (CNS)and Family Nurse Practitioner (FNP). Lindsey explained to keen Lankan Nurses how having six major hospitals in close proximity offers ample clinical skills and hands-on work experience alongside postgraduate training and research activities helping many to become global nurse educators.
Answering a question on the possibility of engaging in summer paid internships Lindsey explained that any international student becomes eligible to engage in Curricular Practical Training (CPT) once s/he completed one academic year and gets further one full year of Optional Practical Training (OPT) after graduation. Scholarships for USA (Pvt) Ltd is constantly engaged in seeking more opportunities for Lankans to become global professionals through US education.