"Forecasts indicate that between 2006 and 2025 22,000 new aircraft will be required to meet the demand for air travel" - Society for British Aerospace Companies.
The UK already has the largest aerospace and defence industry in Europe (second only to the US globally), employing over 100,000 highly skilled professionals.
The University of Glamorgan recognizes the importance of the aerospace industry. Their ongoing investment in this area reflects their commitment to becoming a recognized centre of excellence for aerospace training and education in the UK. Glamorgan's Faculty of Advanced Technology has a splendid reputation for engineering, which has been further enhanced by their comprehensive aerospace offering. Operating at the cutting-edge of technology, they prepare the students for the dynamic aerospace industry.
Demand for qualified engineering professionals is strong and if current trends continue as expected, aerospace and aviation will remain an exciting and vibrant industry to be part of. The University has established links with industry, which enables us to develop courses tailored to match employers' needs - making their graduates more employable. Developed in conjunction with industry experts and professionals, their courses are taught through a mixture of lectures, online learning and practical lab and workshop training. Students also benefit from work placements, which provide real-life experience.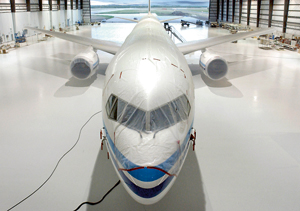 Wales is home to a variety of aerospace companies including EADS, BAE Systems, Nordam Europe, GE Aviation, General Dynamics, Raytheon, SLEX Sensors & Airborne Systems, QioptiQ, British Airways and Airbus UK. The investment in dedicated facilities of the aerospace courses reflects their ongoing commitment to this sector and the students, ensuring they work the latest industry standard equipment, in preparation of their future careers.
University admission is now in progress for the September 2011 intake . They offer a scholarship of GBP 2500 per year for Sri Lankan students. Students interested in applying for Aerospace courses or any other programmes at undergraduate and postgraduate level are invited to contact the university's official representative in Sri Lanka , Anusha Hewage , West 1 International 2594463, 0776 852323 , or email west1intl@eureka.lk