Deakin University was established in the 1970s as a new generation Australian university. Named after Alfred Deakin, Australia's second Prime Minister, Deakin combines a university's traditional focus on excellent teaching and research with a desire to seek new ways of developing and delivering courses. Deakin has won several awards for its teaching and learning excellence - testament to its excellent facilities, flexible learning options and courses which are informed by industry professionals. Deakin has always been a preferred university for Australian education among the Sri Lankan students for a number of study disciplines.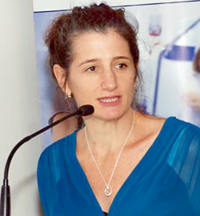 HE Kathy Klugman, Australian High Commissioner speaking at the Deakin University - IIHS MOU Launch in Colombo
IIHS (The International Institute of Health Sciences) is a Healthcare training organization, with a mission to bring innovation to healthcare training, infusing the traditional values of Healthcare professionalism, while adhering to international training standards. The main focus is to improve the quality of lives of healthcare professionals through developing their personalities, by partnering with international organizations to provide a total solution to the global healthcare professional need.
The International Institute of Health Sciences, the country's leading healthcare education campus has embarked on the ambitious goal of developing the quality of healthcare education in Sri Lanka and in the attempt to do so, IIHS will now offer Deakin University's BSc Nursing Programme with a 3+1 pathway in Sri Lanka. Here the students will be studying the first three years of their degree in Sri Lanka at IIHS at a very affordable cost compared to the same if done in Australia, and for the final year they can transfer to the Deakin University to complete their Bachelor's (Hons) Nursing Degree. This pathway is available to the local Sri Lankan students who have the entry requirement of 3 passes at the GCE A/L examination or a recognized foundation programme and also to any international student who is looking for a cost effective pathway to obtain a well recognized Australian degree.
The launching ceremony of this collaboration was held on March 3 at the Cinnamon Lake Side Hotel with the presence of Australian High Commissioner, Kathy Klugman as the chief guest. The Deakin University representatives were present at the occasion and among the other distinguished invited guests were Dr. Amal Harsha De Silva, the Provincial Director, Western Province, Ministry of Health, Mr. Peter Linford, Senior Trade & Investment Commissioner for South Asia, Dr. T.A Piyasiri, Director General, Tertiary and Vocational Education Commission, Prof. Bas Baskaran, Associate Dean (International) Faculty of Science & Technology, Deakin University, Ms. Patricia O'Dea, International Marketing Manager, Deakin International, Mr. David Samuel, Business Development Manager, Austrade, Prof. Gunapala Nanayakkara, Managing Director, Graduate School of Management and Mr. Eastman Narangoda, Chairman, Seylan Bank.
Dr. Nihal De Silva, Dean of IIHS delivering the welcome speech, gave a brief history of IIHS and how it has overcome many obstacles to become what it is today. He noted how five medical professionals including himself started the institute 9 years ago and how it came from an intake of 20 nursing students in a year to now 200 students studying in different study programmes such as Nursing, Physiotherapy, Medical Administration and various other courses. Speaking on the collaboration Ms. Patricia O'Dea, International Marketing Manager- Deakin International explained how this process was carried out within a short period of eight months with the immense help and backing of Mr. David Samuel- Business Development Manager, Austrade and she was of the view that this collaboration will expand in to other areas of health studies as well.

Deakin University, IIHS and special invitees and guests with HE Kathy Klugman, Australian High Commissioner in Sri Lanka at the launch
Dr. Amal Harsha De Silva, Provincial Director, Western Province, Ministry of Health in his speech pointed out that the private sector has a huge role to play in the development of the health sector in Sri Lanka. He explained the importance of organizations such as IIHS which contribute immensely to the health sector by nurturing internationally qualified professionals who would uplift the standards of the healthcare services. He further stated he would take every step to ensure that the government will support these kinds of initiatives.
High Commissioner Ms. Kathy Klugman in her speech expressed she was much impressed by the history, facilities and the quality of education offered at IIHS and she was of the view that this collaboration will benefit the local Sri Lankan students as well as other international students who aspire to obtain an Australian qualification. She also noted she was happy about the Midwifery element of the degree which is awarded through this collaboration. She recommended the Deakin University, stating that it was known for doing things right. She further gave her best wishes to both organizations to carry out this fruitful collaboration to greater heights.
Dr Kithsiri Edirisinghe, Managing Director of IIHS, in his vote of thanks stated that the concept of upgrading Sri Lankan education to an International level, to enhance skilled labour export has been emphasized in the "Mahinda Chinthanaya" the state policy document. He further stated the collaboration between Deakin and IIHS will produce high quality healthcare professionals who would serve patients all over the world. He went on to state this collaboration will also pave the way to student and staff exchange, collaborative research in healthcare services, which will in turn contribute to the much needed development of this sector. He thanked all stakeholders for contributing to this valuable collaboration and requested the media personnel to convey the message to all Sri Lankan youth that international level nursing training programmes are now available in Sri Lanka at an affordable cost.
Advantages of Deakin & IIHS collaboration
Upon completion of the final year in Australia, students will be eligible for the registration requirements for Registered Nurse (Division 1) of the Nursing and Midwifery Board of Australia (NMBA). The strong Industry Partnerships, excellent teaching and learning practices and Clinical placements and skills training account for approximately 50% of the course contact hours and are undertaken in various health care settings. Employment opportunities for nursing graduates have never been greater due to the current shortage of qualified nurses both locally and overseas. Recent surveys show that the salary of an Australian Registered Nurse ranges between AUS $49,000 to AUS $120,000 plus per annum, depending on the experience, qualifications and chosen work area. The students will also greatly benefit from the tremendous cost saving by studying 3 years in Sri Lanka.
For more information & registration, contact;
Hotline- 0114 65 11 44, 0773 11 43 81, 0774 14 23 98
Visit- www.iihsciences.com, Email- info@iihsciences.com
No.704, Negambo Road, Welisara