The University Grants Commission (UGC) has recognized the BCS Higher Education Qualification (HEQ) as an entry qualification for Master's Programmes including Master's in Computer Science (MSc), Information Technology (MIT), and Business Administration (MBA).
Every year, there are thousands of students that pass the A/L exams but are lacking in a few marks to gain the opportunity to enrol at a state university to follow an internal degree programme. These students now have the ability to complete the BCS HEQ up to the Professional Graduate Diploma (PGD) level and then seek entrance to a state university to follow postgraduate studies including a Master's Degree.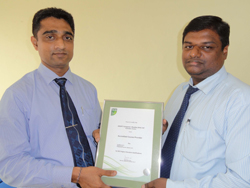 Dr. Dayan Rajapakse (CEO / Managing Director of ESOFT) receives the BCS Accredited Course Provider Certificate
The key point is that the BCS HEQ can be completed in as little as two years thereby giving a fast pathway to higher studies. Students and Professionals that had completed the BCS HEQ before have also proceeded to complete the Master's Degrees at state universities including Colombo, Moratuwa, and Peradeniya as it was informally recognized as equivalent to a Bachelor's Degree. However, it was in 2010 that formal recognition was awarded by the UGC.
ESOFT which was established in 2000 provides a number of technical, vocational, professional, and academic programmes under one roof and is one of the largest ICT training providers in the country with 27 branches islandwide. The BCS HEQ was one of the first and most popular courses to be introduced at ESOFT.
The British Computer Society (BCS) has awarded "Accredited Course Provider" status to ESOFT for all three levels of the programme, after having considered multiple factors including the number of students studying at ESOFT, their results, facilities at ESOFT, qualifications and number of academic and non-academic staff, etc. ESOFT is the only organisation in Sri Lanka to be accredited by the BCS and is also the only institute in the entire world to be accredited by the BCS for all three levels of the programme (Certificate, Diploma, and Professional Graduate Diploma levels).
The BCS is the only organisation in the world to offer Chartered Professional status for ICT practitioners and the relevant exam that leads to chartered status is conducted in Sri Lanka as well as many other countries worldwide. In order to gain Chartered IT Professional (CITP) status first the individual must complete the necessary exams and then gain experience via employment. Those that complete the exams can then obtain Membership in the BCS Professional Body (MBCS) as well as at the Computer Society of Sri Lanka (CSSL).
Sri Lanka has a "BCS Sri Lanka Section" which was established in 1996 and is the largest membership chapter or section outside of the UK. The BCS also holds an Annual Graduation Ceremony where approximately 150 graduates are awarded their qualification.
Enrolment is now under way for the new BCS intake with special batches being scheduled, and students and professionals that wish to obtain more information are invited to visit us or call on 0117 555 545. More info: www.esoft.lk.
We offer the BCS Higher Education Qualification (HEQ) as a full-time programme called BCS-Plus. The course is conducted on weekdays and covers BCS subjects and additional modules including SCJP, MCTS, CCNA, Web Designing, Hardware, Networking, etc. The course fee is only Rs. 249,000 and as an incentive, students that make a payment of Rs. 100,000 are provided with a SlimTop Computer and there's a Free Laptop offer too. When most Degrees are offered at a million+, this is truly an affordable and cost-effective option. ESOFT was the first to offer the BCS HEQ as a full-time study programme together with valuable additions to provide practical exposure.
ESOFT is also the largest course provider in Sri Lanka for the University of Colombo School of Computing BIT Degree and is also only one of two organisations to be partnered with the University of Moratuwa to offer their BIT Degree while being the only authorized partner to offer the Degree Programme outside of Colombo.