SURKH ROD, Afghanistan, Feb 24 (Reuters) - A few minutes and a few bullets were enough to turn Abdullah from an 11th grade student with dreams of becoming a translator to the despairing head of a family of more than a dozen.
His father and oldest brother were shot dead last August at the start of a midnight assault by NATO-led troops on their house in Afghanistan's east. Abdullah himself was hooded, handcuffed and flown to prison, where he was detained for questioning and then released.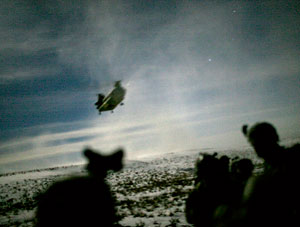 1.A Chinook helicopter lands to pick up U.S. soldiers of the 101st Airborne Division following a night raid in Yahya Khel, Paktika province February 21. Reuters
They were casualties of a night raid, a controversial tactic that has been stepped up dramatically since General David Petraeus took over running the Afghan war last year, despite strong opposition led by President Hamid Karzai. There were nearly 20 raids each night over the past three months, according to a senior NATO official who requested anonymity.
Petraeus says the pressure on suspected insurgents and their networks has brought a new dynamic to a near-decade-old war. Critics argue it is fuelling violence because poor intelligence means dozens of innocent people are killed or detained.
Although more than 80% of recent raids ended without a shot being fired, violence escalates fast when it does break out, with 600 people killed on operations in the three-month period. Eastern Jalalabad city, which shares the Taliban's Pashto language and culture but has traditionally been a government stronghold, is one area where raids appear to have been rising fast, although NATO declined to comment on the location of raids.
"There didn't used to be any night search operations. It is a peaceful district, so there was no need," said Haji Abdulwahed Ahmadzai, a member of the local shura, or council, for Surkh Rod district where Abdullah lives.
Nestled on the outskirts of the city, where streets give way to fields, it seems more a bucolic backwater than an insurgent hideout. Ahmadzai says Abdullah's family was innocent, as do villagers who blocked the highway to Kabul to protest against the raid. The family has been devastated economically as well as emotionally.
"I would have liked to be a translator, my father was helping me," said Abdullah, who was top of his class for years, but now works gruelling days at a brick kiln. "Night raids are probably the single biggest cause of outrage among Afghans," said Erica Gaston, a human rights lawyer and Afghanistan expert at the Open Society Institute.
"They are usually so inflammatory that, if even one raid causes a civilian casualty, everyone in the area knows about it."
WHAT IS INNOCENT?
The NATO-led International Security Assistance Force (ISAF) disputes Abdullah's account of the night his relatives died. He says the family was asleep when troops arrived on the roof, broke down the front door and killed his father. His brother grabbed a gun but was shot before he could open fire.
ISAF said troops came under fire when they arrived in the area, tried to call people in the house to come out peacefully, and only started shooting when attacked from inside by two men. "Several" people in the small compound identified the dead men as Taliban, ISAF added in a statement. Abdullah said he, his brother and father were the only adult men there.ISAF declined to say who confirmed the dead men were Taliban.
Afghans are often sceptical about how information is gathered and targets are chosen. Many who have been targeted by raids, or seen friends hit, suspect that they are being sold out by paid informers under pressure to keep a flow of information coming.
ISAF declined to say if the military buys intelligence, but it did say that a single tip-off would not spark a raid and that they are very confident they "invariably get the guy they are after". Yet their own data suggest some margin of error. Around 8% of the 472 civilians killed or wounded by foreign troops last year were caught up in night raids gone wrong, they said.
They may also be earning the enmity of wider communities by swooping on people who have some links with insurgents, but are not seen by neighbours as active participants. This type of informal contact is common in an area where religion is an important part of life yet closely tied to militant groups. Villagers are often poor, isolated and vulnerable to pressure from armed groups, and there are strong cultural obligations of hospitality to visitors, experts say.
A local mullah who U.S. forces believe is a Taliban leader visited Abdullah's family the day of the attack, said neighbour and former member of parliament Safia Sediq. But he is also a senior religious figure, and the visit was to say prayers for a recently deceased aunt, she added.