After their eyes first met at St Andrews University almost a decade ago, Prince William and Kate returned to where their fairytale romance began today. The couple braved the blustery Scottish weather which will be familiar to them from their student days as they launched the university's 600th anniversary celebrations.
Ms. Middleton was dressed in a red suit with a black velvet belt and black leather gloves while William was wearing a dark blue suit. A Clarence House spokeswoman could not give any details about the suit's designer, saying only that it was an item from Ms. Middleton's own wardrobe.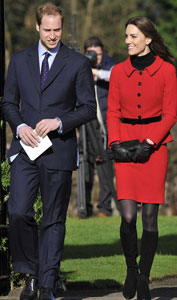 Happy returns: Couple went back to St Andrews two months before the Royal Wedding
Well-wishers waited patiently against crash barriers in the rain this morning as they tried to get the best view of the Royal couple. On Friday afternoon the couple, and William's younger brother Harry, travelled to London to sign a book of condolence in memory of those who lost their lives in the Christchurch earthquake.
Kate was wearing the same red outfit as the trio arrived at the New Zealand High Commission. The university announced they are creating a scholarship in their honour as a wedding gift which they were presenting to the couple.
The campus had been abuzz since the trip was announced last week. The 28-year-old Prince and his 29-year-old fiancee, who became engaged in October while on holiday in Kenya, emerged from their Range Rover to be greeted by the Lord Lieutenant of Fife, Margaret Dean.
It was the first time the Prince had returned to the university since his graduation six years ago and he spoke movingly during his short speech about the four years he spent there. Launching the anniversary celebrations from the university's quadrangle, the ancient heart of the institution where 16th century buildings surround a small grass-covered square, he addressed 600 students and staff who had won their seats by ballot.
As the Prince and Ms. Middleton arrived, their way was led by six mace bearers and he was introduced by former Liberal Democrat leader Sir Menzies Campbell, the university's Chancellor. Events marking the milestone will be spread over three years as teaching began at the institution in 1410, chartered status was granted a year later and the university was formally constituted by a series of papal bulls issued by Pope Benedict XIII in 1413.
William said: 'This is a very special moment for Catherine and me, it feels like coming home. 'Despite being one of Europe's leading research institutions, the third-oldest university in the English speaking world, and of course far and away the best university in the world, St Andrews still has that uncanny knack of feeling like home and so it must have done for generations of undergraduates before us.'
Dr John Walden, a senior lecturer in geography who taught the Prince said: 'It's just a fabulous coup for the university to have them back here to promote the 600th anniversary celebrations.' Recalling William's time as a student, he said: 'He was fabulous. He made life very easy for us. He tried as hard as he could to experience a normal student programme.
Graduation day: William graduated with a 2:1 in geography from St Andrews in 2005 and Kate got the same classification in history of art.
'He did a very good job of that. I'm amazed that he managed to stay focused with all the obvious attention. He managed to stay focused for four years and keep his head down and get some work done.' The special scholarship created in the name of William and Kate has been given as a wedding gift.
It will have a value of up to £70,000 to meet the costs of tuition, if payable, accommodation and living expenses for a four-year undergraduate degree in science, arts, medicine or divinity.
Applicants of all nationalities will be able to apply for the award which will be given annually to a student who would otherwise have been unable to attend St Andrews. Professor Louise Richardson, the university's principal and vice-chancellor, said: 'This will be the first scholarship of its kind at St Andrews and a reflection of this university's commitment to ensure that we find, attract and support the most gifted students from anywhere in the world.
William graduated with a 2:1 in geography from St Andrews in 2005 and Kate got the same classification in history of art. The Prince and his fiancee began dating while sharing a house in the picturesque seaside town in Fife, and almost 10 years later will wed at Westminster Abbey on April 29 as the world watches.
© Daily Mail, London