UNITED NATIONS, Feb 26, (AFP) -The UN Security Council is set to meet again on Saturday to consider a sanctions resolution against Libyan ruler Moammer Gaddafi in a bid to halt his bloody crackdown against opposition protesters.
Britain, France, Germany and the United States have drawn up a resolution which says the attacks on civilians could amount to crimes against humanity. It calls for an arms embargo and a travel ban and assets freeze against Gaddafi and his entourage.Intense negotiations are expected, however, as some other countries raised reservations about some of the measures.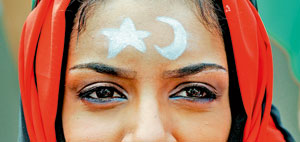 A Libyan protestor with a Libyan flag painted on her forehead, participates in a protest rally against Libyan leader Moamer Gaddafi in front of the Libyan embassy in Kuala Lumpur. Some 200 protesters gathered in front of the embassy with banners and placards to condemn the bloody crackdown on anti-government demonstrators in Libya. AFP PHOTO / Saeed Khan
UN Secretary General Ban Ki-moon said more than 1,000 people have already been killed in the Libyan bloodshed. Libya's deputy UN envoy said earlier that thousands had been killed. On Friday, Ban told the 15-nation council of reports that Libyan forces had gone into hospitals to kill wounded opponents, and soldiers were being killed because they had refused to fire on civilians.
"People cannot leave their houses for fear of being shot by government forces or militias," he said.
"It is time for the Security Council to consider concrete action. "The hours and the days ahead will be decisive for Libyans and their country, with equally important implications for the wider region," the UN leader added.
"In these circumstances, the loss of time means more loss of lives."Libya's ambassador to the United Nations, Abdurrahman Shalgham, a childhood friend of Gaddafi and former foreign minister who has turned against the regime, also pleaded with the Security Council to act against the "atrocities" by Gaddafi.
He spoke of how Nazi leader Adolf Hitler had dismissed the importance of deaths of Germans when he ordered the invasion of the Soviet Union, and similar actions by Khmer Rouge despot Pol Pot and Soviet leader Joseph Stalin. Now Gaddafi was telling his people, "either I rule over you or I kill you, destroy you," the ambassador added.
"Please, United Nations, save Libya. Let there be no bloodshed, no killing of innocents. We want a decisive, rapid and courageous resolution from you," he said. His deputy ambassador Ibrahim Dabbashi sat behind him in tears, and Ban and several Security Council envoys later went over to embrace Shalgham after his speech.
The UN leader and other council ambassadors later called it an "historic moment" that completely changed the course of the council's actions on Libya. Gerard Araud, the French ambassador, said "I think it was a very momentous moment.""It had a very serious impact," added Mark Kornblau, spokesman for the US mission.
Araud was confident that a resolution would be passed on Saturday. He acknowledged that "questions" had been asked about referring the Libya deaths to the International Criminal Court for a possible crimes against humanity investigation. But he said France would push very hard to have it included.
The draft resolution says "the widespread and systematic attacks currently taking place in Libya against the civilian population may amount to crimes against humanity."China and Russia traditionally oppose sanctions measures which they see as interference in the affairs of individual countries and could oppose certain parts of the resolution, diplomats said.
But Maria Luiza Ribeiro, the Brazilian ambassador and president of the council for February, said all members shared "a sense of urgency" about the need to end the killings in Libya. She said a result was possible Saturday.
"South Africa would work with the members of the council to ensure that everything is done that will make the authorities in Libya stop the violence against the Libyan people," said South African ambassador Baso Sangqu.
A campaign to have Libya kicked off the Geneva-based UN Human Rights Council will move to the New York headquarters next week. A UN General Assembly vote which requires a two thirds majority could be held on Monday.
All's fine says Gaddafi's son
TRIPOLI, Feb 26 (Reuters) - For the son of Libyan leader Moammar Gaddafi, the streets of Tripoli are full of jubilant crowds shooting fireworks, chanting songs and celebrating his father's long rule -- a picture painted on state television.
"Everything is calm," Saif al-Islam Gaddafi told a group of foreign journalists invited to the Libyan capital after 10 days of unrest during which media access has been limited. "If you hear fireworks don't mistake it for shooting," the 38-year-old London-educated younger Gaddafi said, smiling.
US slaps sanctions on Gaddafi
WASHINGTON, Feb 26, (AFP) -US President Barack Obama has imposed personal sanctions on Libya's Moamer Gaddafi and four of his sons, in a clear attempt to further weaken his teetering regime and punish brutal assaults against his people.
Obama wielded presidential power in an executive order Friday to seize the assets of Gaddafi and named family members in the United States and globally within the auspices of US financial institutions, saying the "human dignity" of Libyans "cannot be denied."