MANAMA, (Reuters) - Shi'ite computer science graduate Mahdi Mohamed tried hard for a government job.
"But no call. No reply. Not even a rejection," he said. A Sunni friend from college easily found work. "The other boy has holidays, commissions and allowances. He has an office," said Mohamed. "Do you know what I do? I deliver computers. My car is my office." It is a familiar complaint made by Bahrain's majority but marginalised Shi'ites, fuelling protests which have escalated into demands for full democracy and even -- from some -- the removal of the 61-year-old Sunni King Hamad bin Isa al-Khalifa.
"Other people have come here. Indians. Pakistanis. Other people have taken all the jobs," said psychology graduate Fatima Hassan at her ramshackle home on the Bahraini island of Sitra.
Bahrain's Shi'ites, 70% of the population, say they face so much discrimination in seeking jobs and government services that they come lower in the pecking order even than naturalised Sunni immigrants from other places such as Pakistan.
"What is done is they are given citizenship to offset the Shi'ite majority," said Barak Barfi, an analyst for the New America Foundation. "They are fast tracked for government housing while the Bahrainis who lived here all their lives have to suffer in insufficient housing." The government has naturalised tens of thousands of Sunnis and the heavy non-native presence in security forces is among factors blamed for the harsh response to overwhelmingly peaceful protests, in which security men beat and fired on protesters.
The allocation of housing, health care and other benefits to Sunnis from outside Bahrain also drives the resentment felt by Shi'ites over their own living conditions.
SECTARIAN DISCRIMINATION
At her Sitra Island home, with cinderblock walls and exposed electrical wiring, Hassan sleeps on a carpet on the floor. Her elderly mother sleeps in the home's only bed. Despite her psychology Degree, she has almost given up hope of finding a job that may help improve her family's plight.
Her sister, with a Degree in geography, gave up after three years of job hunting and got married.
The low-rise concrete apartment blocks and houses rising from sandy lots in Sitra contrast sharply with the glass and steel skyscrapers of central Manama.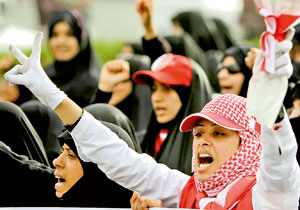 A Bahraini anti-government protester shouts slogans against the regime during a march from Pearl Square to Manama's old city on February 24
"This is one of the main grievances people complain about, this sectarian discrimination targeting Shi'ites, which has increased since the king took power," said Nabeel Rajab of the Bahrain Centre for Human Rights. He said tensions had sparked a rise in crime against migrants, either naturalised Bahrainis or others from similar ethnic backgrounds.
King Hamad, in an apparent gesture to the Shi'ite opposition, promised last year to limit the number of foreigners granted citizenship. Pro-government politicians say Shi'ites, including some of Iranian origin, have also been naturalised.
Sunni lawmaker Abdulhaleem Murad denied there was systemic discrimination against Shi'ites on a government level. "It is not like a project that people are working on. There might be some discrimination in some fields," he said.
Bahrain's labour ministry says unemployment is steady at 3.6%. Analysts say the rate for Shi'ite youth without easy access to government jobs is much higher.
FEWER BENEFITS
Even when they get jobs, Shi'ite Bahrainis say they are often paid less than Sunni coworkers or are forced to work on temporary contracts that do not provide benefits for retirement or paid annual leave.
"I worked as an accountant, but I got the salary of a messenger boy," said Hussein Ali, 26, who said he was paid $600 a month. He quit six months ago, and hasn't found another job.
Protesters say they are keen to avoid turning their protest movement into a sectarian fight, adding that their argument is with the government, not Sunni Arab Bahrainis with whom they have long lived peacefully.
"I have no problem if we have a Sunni prime minister who is from among the people. But we choose," said Fatima al-Shaaban, a British-educated patent lawyer who says that while she has a good job, it is outside her field and underutilises her skills.
Some Shi'ites say Sunni friends helped them get jobs by giving needed references. Noor, 32, a teacher, said she was able to get extra unpaid leave, initially denied, to stay home with her premature baby after a Sunni intervened on her behalf.
A small number of native Sunni Bahrainis, whom Shi'ites differentiate from naturalised Sunni immigrants, have also shown up at protests to say they too will benefit from reforms.
The symbols of the protest movement have so far been largely secular, with protesters waving national Bahraini flags and white flags emblazoned with the word "peace". Pearl Square has been largely devoid of Shi'ite symbolism.
Bahrain, home to the U.S. Navy's Fifth Fleet, is allied to the United States and Saudi Arabia, which see it as an outpost against Shi'ite Iran.