BAGHDAD, Feb 26, (AFP) -Libya's escalating revolt has emboldened protesters across the Arab world, with tens of thousands flooding onto the streets from Tunisia to Yemen to demand better lives and greater freedom.
An increasingly embattled Moammer Gaddafi said he would throw open Libya's arsenals to his supporters in a rabble-rousing speech that presaged a bloody battle for the capital. "We will fight them and we will beat them," Gaddafi said in a brief address in Tripoli's Green Square, where frenzied supporters raised his portrait and waved the country's green flag.
"Sing, dance and prepare yourselves," the 68-year-old leader said Friday, urging his partisans in the square below to "defend Libya". "If needs be, we will open all the arsenals."Libya's envoy to the United Nations, Mohammed Shalgham, a childhood friend of Gaddafi, became the latest official to abandon him, as regime loyalists killed several people in shootings that spread through Tripoli.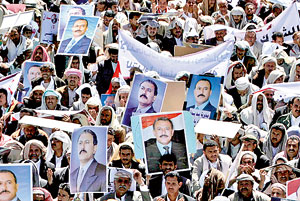 Supporters of Yemeni President Ali Abdullah Saleh attend a rally in Sanaa February 25. REUTERS
French President Nicolas Sarkozy became the first world leader to openly demand Gaddafi's ouster, and the US and the EU imposed sanctions in response to the bloody crackdown on dissent. UN chief Ban Ki-moon demanded decisive action by the Security Council against Gaddafi's offensive, warning that any delay would add to the growing death toll, which he said now came to over 1,000.
The protests sweeping the Middle East, which have already toppled Tunisia's Zine El Abidine Ben Ali and Egypt's Hosni Mubarak, have been organised largely on social networking website Facebook.
They have united a disparate group of causes, railing against poor public infrastructure and demanding broader political reforms in some of the most corrupt countries in the world with strict censorship.
Iraq
In Iraq, the first significant protests against the government's failure to provide basic services left 15 dead as security forces used water-cannon and tear gas to disperse thousands of angry protesters in Baghdad.
In a "Day of Rage", some 5,000 people thronged Tahrir Square, with angry crowds throwing stones, shoes and plastic bottles in the biggest of at least 17 separate demonstrations across the country. Rated the fourth-most corrupt country in the world by Transparency International, Iraq suffers from poor electricity and water provision, as well as high unemployment nearly eight years after the 2003 US-led invasion. "It is now eight years, and they have done nothing for us. Stop the words, we want action!" said one protester, Ammar Raad, 33.
Yemen
Across Yemen, tens of thousands demonstrated after Friday prayers to demand that veteran President Ali Abdullah Saleh step down. In the city of Aden, police shot dead one protester and clashes injured 20 people.
In the capital, thousands poured into a square near Sanaa University, many of them women, chanting "Out, out!" and "God bears witness to your acts, Abdullah." Organisers said the crowd swelled to 100,000.
The protesters dubbed Friday "the beginning of the end" for Saleh's regime, which has been in power in Sanaa since 1978.
In Aden, violent clashes broke out as thousands marched towards the tightly patrolled Al-Aroob square and were confronted by security forces who fired tear gas and bullets to disperse them, witnesses said.
Tunisia
In Tunisia, tens of thousands rallied to demand the resignation of Prime Minister Mohamed Ghannouchi's transitional government in the biggest rally since last month's ouster of Ben Ali.
Tunisians are angry that figures from Ben Ali's authoritarian regime are still in power and fear their revolution could be hijacked. Demonstrators shouted "Revolution Until Victory", "Ghannouchi, Take Your Dogs and Go" and "No to the Confiscation of the Revolution".
In Bahrain, tens of thousands of protesters thronged Manama to demand the end of the ruling Sunni regime, as visiting US military officer Mike Mullen reaffirmed Washington's commitment to embattled King Hamad.
Some of the protesters carried megaphones, blaring slogans and speeches as the protest snaked towards the square, renamed "Martyrs' Roundabout" in honour of the seven victims of a deadly police raid on a protest last week. Jordan too saw several thousand people demonstrate in the capital Amman calling for political reforms in a "Day of Anger" organised by the powerful Islamist opposition and other parties.
There was joy in Egypt, though as thousands rallied in Cairo's Tahrir Square to celebrate the success of their revolution and call for a new government of technocrats purged of old regime remnants.