Tony Blair is still a 'good friend' of the Libyan dictatorship and should broker a deal to keep it in power, according to a son of Colonel Gaddafi. Saif al-Islam Gaddafi last night urged the former prime minister to help put his country on a 'stable footing'.
The Tripoli-based official told the Mail: 'Tony Blair was attending meetings with the Brother Leader until last year. 'He is peacemaker in the Middle East, and should be able to use his talents for peacemaking here. We need his diplomatic skills now as we set about crushing our enemies.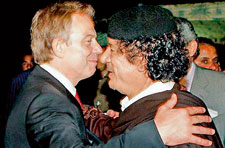 Deal in the desert: Tony Blair meets Libyan leader Colonel Muammar Gaddafi at his desert base outside Sirte south of Tripoli in 2007
'It is time for the international community to bring peace to Libya and Tony Blair could be at the forefront of this process. Tony Blair is a good friend who would put the country on a stable footing.' The official is a senior figure in the Libyan regime and is very close to Saif. The Mail is not identifying him for security reasons.
His astonishing intervention came as MPs and critics of Mr. Blair warned he could be severely embarrassed if the Gaddafi regime imploded. Lockerbie families warned he would be left with a 'dirty bib' when full details of the business deals between Libya and Western companies, some of which were engineered by Mr. Blair, are revealed.
In 2004, the former PM brought Gaddafi in from the cold by signing the notorious 'Deal in the Desert', which saw British firms such as BP sign massive contracts with the Libyans. His visit led to negotiations over a prisoner transfer agreement that ultimately paved the way for the release of the Lockerbie bomber Abdelbaset Al Megrahi.
Last year the Daily Mail revealed how Mr. Blair was making secret visits to Tripoli to advise Gaddafi.
Saif, the dictator's British-educated second son, claimed in an interview that the former prime minister was a friend of the regime. He even suggested that Mr. Blair was a consultant to the Libyan Investment Authority, the sovereign fund responsible for the country's £50billion in oil wealth - something Mr Blair has denied.
Since he left Downing Street, Mr. Blair has received fees of up to £2million a year as an adviser to JP Morgan, which has important business interests in Libya. Asked if Mr Blair was in telephone or email contact with Colonel Gaddafi or any members of his entourage, the source said: 'If he was it would be a secret. Their recent negotiations have all been a secret.'
Critics of Mr Blair said he had a duty to try to salvage some good from his close links with the Gaddafi family.
© Daily Mail, London