After the final round Sri Lanka Navy won the Russian Ambassador Challenge Trophy Open Team Chess Championship - 2011 by collecting 16 points out of 20 games. Sri Lanka Navy team consisted of L.P.P.R. Jayanka, K.W.C.U. Silva, B.R.M. Madugalla, M.N.C. Jayarathna and L.D.P. Madusanka.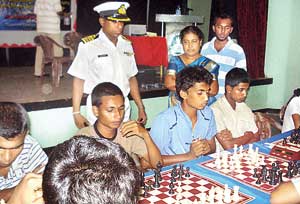 The Sri Lanka Navy Team at the Final Matches with Ficher Chess Club, watched by Captain Udaya Dampage, Chairman of Chess in Sri Lanka Navy and Mrs. Suneetha Wijesuriya, President of the Anatoly Karpov Chess Club of the Russian Centre in Colombo.
Ficher Chess Club won the First Runner-up with 16 points and team consisted of Shehan Senevirathna, M.S.V.K. Koggala, R.S. Kalugampitiya, P.D. Senanayake and Abhimanju Rathnasekera. Sampath Bank Chess Team were the 2nd Runner-up with 15 points and the team consisted of Nishantha Withanage, Kalana Abeysinghe, Sanjeewa Subasinghe, Kasun Perera and Amila Pasuru.
Thirty five teams participated in this tournament including players from Schools, Chess Clubs, Sports Clubs, Universities, Government Organizations and Private Sectors. Merit Awards were won by the Paul Morphy Chess Women's Team and the Team consisted of Chandra Ratnayake, Sachini Ranasinghe, Samadhi Malalgoda, Supeshala Thillekawardena and Pravardhi Senarath. The above Team won the best women's award too. The Women's second place was won by Sri Jayawardenapura University and the third place among the women went to the University of Peradeniya.
Another Merit Award was bagged by the Old Josephian's Chess Club.
Board Prizes - Russian Ambassador Challenge Trophy Open Team Chess Championship - 2011
Board No. 1 Shamin De Moraes of Old Josephian's Chess Club - 4 ½ / 5 points
Board No. 2 W.S.V.K. Koggala of Ficher Chess Club - 5/5 points
Board No. 3 Sanjeewa Subasinghe of Sampath Bank 5/5 points;
P.M.A.B. Athukorala of Paul Morphy Chess Club - 4/4 points.
Board No. 4 B. Yaparathne of Etisalat Chess Club - 4/4 points;
W.D.R.T. Wijeyaratne of S. Thomas' Chess Club - 4/4 points
Board No. 5 Amila Basuru of Sampath Bank - 3/3 points