Priyanka Kumudini Dissanayake, a disabled athlete from Buttala, bagged Bronze in the 200 Meters sprint at the Para Olympics held in China. A felicitation ceremony to honour this athlete took place at the Buttala, Udarawa by residents of the Horabokka Village. Prior to this in 2006, this girl showed tremendous speed to bag Silver in the same event at the Para Olympics held in Malaysia.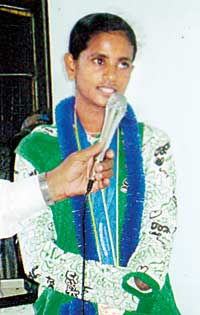 Priyanka Kumudini Dissanayake
Kumudini received her education at the Horabokka Siddhartha Maha Vidyalaya. Kumudini was the sad victim of a bomb blast in 2005 where she lost both her hands and eyes. She has no father and her mother too was a victim of the bomb blast where she lost an eye. She has one younger brother.
This girl's fight for survival is great. She has no specialised coach and receives no help from the authorities concerned. Her coach is Susantha Somakumara who also trains several disabled athletes. Kumudini lives in Janawasa Two, a remote village in the Buttala area. She receives no special nutrition, has no job and lives on the bare salary that her mother earns as a farm hand.
"I have brought two medals to Sri Lanka at Para Olympic Meets. However no help has been received by the government. If I get help, I may be able to bring more honour to my motherland," said this gutsy athlete.
The ceremony to felicitate Kumudini was organized by the chief incumbent of the Horabokka Viharaya, Hemasiri, the past Principal of Horabokka Siddhartha Maha Vidyalaya R.M. Jayasundara and the villagers of the area. - Text and Pic by Our Buttala Corr