Fourteen-year-old Himashi Sewwandi of Sri Devananda Vidyalaya, Ambalangoda who annexed the tenth place at a ranking swimming competition held recently is having a hearing defect.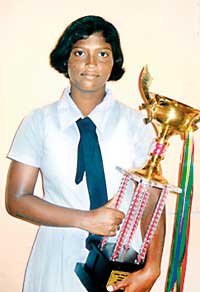 Himashi Sewwandi
To date she has bagged 41 trophies, 35 medals and 36 certificates from the year 2005 when she has been taking part in swimming events. In 2009 she took part in ten events and was placed first in all ten. In 2010 she took part in seven major swimming championships and was placed first in six of them and was placed second in the other.
Taking part in the All Island under 15 Swimming Championships in 2010 she was placed first in the Freestyle, Backstroke and Breastroke events and emerged as the most successful swimmer in the competition.
Sewwandi also showed that she is a capable long distance swimming when she took first place at the inaugural two mile sea swim organized by Gemunu Sports Club of Boosa, Pitiwella. In 2009 she was selected as the most successful young swimmer at the Mt. Lavinia Sea Swim. She also has been successful at sea swims organized by the Ambalangoda Seska SC. She has also several swimming records established at school swim meets.
However, this talented swimmer is having a slight hearing defect and is seeking the help of the public to get it cured. Her father K. Nandana De Silva, who is a labourer, is unable to raise the needed funds and has appealed to the public to help raise the amount needed to cure his talented daughter. More details could be had by contacting Himashi's father Nandana on Telephone: 0717134371