Ten-year-old Lithmina Mahanama of Wesley College won the Under 18 championship and was placed second in the Open Men's Novices and was a semi-finalist in the Open Men's Intermediate Tournament at the All Island Novices/ Intermediate Table Tennis Championships 2011.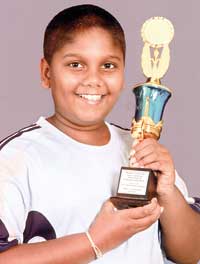 Lithmina Mahanama (Wesley College)
This event was conducted by the Parent's Table Tennis Association of Girl's High School, Mt. Lavinia on February 12 and 13. Lithmina displayed some masterful strokes, despite his age and showed that he is sure to be a player to be reckoned with in the near future.