A shocking farewell from life of a dynamic scholar after a plethora of achievements
I came to know Mr. Nimal Saparamadu (Chairman OKI, Wattala) after his youngest daughter got married to my youngest son six years ago. During this short period I was able to comprehend his great personality and tremendous capacity in achieving his major aim viz. childrens' education.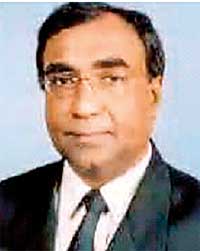 Nimal Saparamadu (Chairman OKI, Wattala)
As soon as Nimal completed his secondary education he selected the noble profession of a teacher. After engaging himself as a temporary teacher in his old school, De Mazenod College Kandana, he started a tuition class in 1974 which was named "Denuma". His urge for education of children and work as a teacher rapidly developed. He had at this time a long term ambition in life of establishing an International English Medium School. During his free time he advanced himself academically and successfully completed the finals of City and Guilds Telecomunication Engineering which gave him an opportunity of joining the Telecommunication Department where he worked about 23years. He later completed his advanced studies in Telecommunication and Business Administration and at the Convocation held in the University of Honolulu London in 2006 (which he attended) the degree was conferred on him.
His advanced studies did not stop him from developing his ambition in life and 'Denuma' progressed gradually to Denuma Higher Educational Institute. In the year 1998 Nimal achieved his long term ambition in life and the Optimum Knowledge Institute (OKI) (an International School) was inaugarated in his hometown Wattala. OKI which started with about 14 students and 2 teachers in 1998 today is proud to boast of a student population of 1850 and over 75 teachers. The Vision of OKI is to become "the Best School in moulding World Class Citizens". From this moment no one could stop Nimal's progress in achieving great heights in the field of education.
Nimal believed in the statement that 'Knowledge is an Investment for the Future'and the slogan of OKI is "Knowledge is Power". Apart from preparing students for O level and A level for both local and London examinations, the OKI school spread its development tentacles in diverse directions such as, a Nursery school called Young Minds, a swimming training school, a summer camp at Ratnapura, a progressive and effective teacher training school for primary and nursery teachers and an IT school.
The development trend in International English education was extended to outstations by establishing five OKI International branch schools at Kandana, Kiribathgoda, Biyagama, Kotikawatte and Negombo which increased the strength of student population to a grand total of 4000 today.
After establishing the dynamic network of six International Schools Mr. Nimal Saparamadu's capacity for achievements did not stop. He took over the management of graduate tutoring at Aquinas University College in the faculty of Engineering. His next brainchild was to establish a graduate school at OKI which almost reached the implementation stage at the time of his tragic death. His interest in educating children was carried overseas when he proposed to his daughter (who lives in Sweden) to start an OKI International school in Sweden.
In the year 2008 OKI completed its 10th Anniversary of fruitful education and the event was celeberated with a colourful pageant of all branch schools through the streets of Wattala. Due to the overcrowding caused by increasing numbers of student population Nimal got another brainwave, viz. proposing and implementing a primary school complex and a playground in a 2 acre land adjoning St. Anthony's College Wattala. A four storey primary school complex is now half completed and now occupied by the primary school at OKI.
While engaging himself in the diversified development activities Nimal did not for a moment neglect his domestic responsiblities. He has meticulously helped and planned that his two daughters mould a meaningful life. The sacrifices made and contributions given to his wife and two daughters are boundless. Nimal did not neglect his health either. Regular medical check ups and healthy food habits were very vividly observed by his kith and kin and close friends. Having submerged in enormous tasks of developing educational opportunities to children, Nimal would have perhaps overlooked the need for physical exercise which is an essential ingredient for effective body organ function and mental relaxation which controls the extreme stress factors.
Nimal was also an active member of St. Anne's Church, Wattala. His multi-faceted functions at OKI did not stop him from participating in Parish Council meetings. Charismatic movement and St Anne's Welfare Society were other church organizations where Nimal was an active member. At the time of his death he was the president of the Welfare Society.
His untimely death at the age of 55 years and at the prime period of his achievements is truly a shock not only to his near and dear but to all his friends, students, teachers and employees in the OKI schools. People of Nimal's calibre and the capacity to achieve is hard to find in our society today. People who associate close to Nimal are prompted to ask when, how and where could Nimal get his reward for his great contribution made to childrens' education.
After a short period of six years of association with Nimal I feel that his absence is becoming a great impact on my personal life. May Nimal receive his due reward from heaven.
Farewell Nimal! May you rest in true peace!!
- John Damascene Abeysekera