Two things grabbed my attention while closely following this year's Sri Lanka Cricket Fixture
(1) Momentum is critical in sports and you need it on your side to perform well. (2) Big (senior) players step up in big games and it's not by chance. The end result: Sri Lankan Cricket has climbed up the ICC ranking both Test and ODI and giving some clear warnings to other playing nations just before the ICC World Cup 2011. But it does not tell the entire story?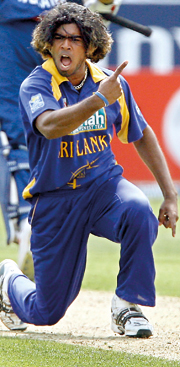 "When I'm focused, there is not one single thing, person, anything that can stand in my way of doing something. There is not. Never has been. If I want something bad enough, then I'm going to get there. That's just how I always have been."
~Lasith Malinga – Prospective
best bowler in the ICC Cricket World Cup 2011
Sri Lankan coaches and supporting staff have been around the block and were prepared for momentum shifts in the game. Yes, they have done a remarkable job. One of the national coaches said recently, "There's going to be ebb and flow. That is what the Cricket is supposed to be about. It was, and hopefully the fans of Cricketers enjoyed it,"
Sangakkara and Mahela appeared to have the momentum right through the year scoring many runs maintaining excellent batting averages. But you could see the momentum shift in the later part of the year especially when Dilshan's performance during warm up matches notching that he is back in action for the World Cup! That could be a positive sight for many Cricketing fans!
Sri Lankan veteran, national team head of Selector, was happy to see his team fight back: "One of the proudest things that I am of the Cricket team is the way we responded, especially with that situation, because in the past, when we've had that kind of swing in momentum, especially just before the world Cup, it would have done the team in." But we fought back and we believed in what we were doing, and that's a credit to the progress that we've made".
Big players step up in big games! Malinga has shocked the Australian Cricketing nation during the recent tour with his ball and bat! Gautam Gambhir from India has given red faces to mighty New Zealanders and Jacques Kallis has shown once again that he could be lethal for any given situation. Michael Hussy has been in top foses (despite his prolong injures) and Hashim Amla (top ODI batsman to date) has shown his mighty and vicious talent during both Pakistan and Zimbabwe tours!
Some Cricketers might fold under that pressure, but players like Amla or Dilshan made big play after big play for their respective countries. For any given game great players like them want the game in their hands even with two minutes left in the game. "I wanted to be the guy," [with the bat], said Amla!. "Great players step up." And he did step up by hitting the winning run often with the tailenders!!
Great players do step up! Great Cricketers want to make the game-winning play. Great basketball players want the ball in their hand with 10 seconds left in the game. Top golfers love the e chance to make a winning putt on the last hole of the tournament. Gymnasts who thrive under pressure are "gamers" and want to do the final routine to win or lose the event.
The concepts of wanting the ball (bowler) or stepping up are universal to any sport. What makes some players thrive under pressure, while others fold or choke at the end of a competition? Kumar Sangakkara is the ideal cricketer who thrives under pressure. The bigger the event, the better he performs.
After completing Australian tour Kumar said he feels the pressure, but pressure is a good thing: "Well, playing against Australia in their backyard is pressure, there's no doubt. I was nervous and that's a good thing. That means you care. You can try and use that energy as best you can to heighten your focus and then get into the right situation and it worked out great for me right thorough out, " said Sangakkara.
I heard Ricky Ponting say something similar to Sangakkara. He stated that he feels nervous before a big game, but once the game starts his confidence and instinct take over and he is no longer nervous at tip off. Billie Jean King wrote a book titled: "Pressure is a Privilege." King sent a text message to encourage Maria Sharapova prior to 2008 Australian Open final. The text message said: "Champions take chances, and pressure is a privilege."
Looking through my sports psychology coloured glasses, most great athletes live to be in pressure situations. They are all "gamers" and want to hit hard or grab a wicket with two minutes left in the game. Pressure or big games motivate them to succeed. Top Cricketers are able to focus even better under pressure. Australian sports system uses the pressure to help give at athletes a boost of adrenaline or energy.
Do great athletes "step up" in big games because they want the fame and fortune? I don't think so – they are not motivated by this. Do great athletes step up because they are afraid of losing or embarrassing themselves? That's the last thing on their mind. Why do they step up in the big games? I think they truly love the competition and the intensity of the moment. They thrive because their mental toughness to overcome the pressure of big-game moments. I think they step up and perform well because of the confidence they have in their abilities. Sri Lankan Cricketers are born to "Step Up"! I believe in them!
Staying composed in big games is one mental strategy you need to step up under pressure. Check out www.pbpconsultancy.com to boost your confidence, composure, focus, and trust before and during competition!
Cricket Specific Mental Training Tip:
"If I want something bad enough, I'm going to get there!"
Despite the recent criticism Malinga has gotten in the media for his recent comments during press conference it is my professional judgment that he is still considered a mentally tough competitor in the game. He "steps up" when on the big stage of any given game! His focus and determination to achieve his goals is unmatched by any other bowler in the league.
- Prasanna Panditharatne
Ph.D Sports Psychologist
www.pbpconsultancy.com