ICBT Campus, the leading provider of private higher education in Sri Lanka since 1999 has again come to the forefront & introduced for the first time in Sri Lanka a much sought after Bachelor of Science (Hons) degree Programme in Quantity Surveying & Construction Management in association with the prestigious Sheffield Hallam University from United Kingdom. A degree in Quantity Surveying was much needed by the Sri Lankan students to reap the full benefits in one of the fastest growing industries both in Sri Lanka and Overseas.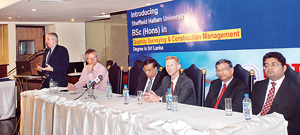 The Launch took place at a well attended ceremony held at AkasaKade, No. 69, JanadhipathiMawatha, Colombo-01 on 14th of February 2011.
Speaking at the ceremony, MrJagathAlwis, Chairman of ICBT Campus said: "BSc (Hons) in Quantity Surveying and Construction Management in association with Sheffield Halam University, UK, would present a unique opportunity to Sri Lankan students to obtain a qualification which is much sought after by employers both locally and internationally. With the dawn of peace, qualified Quantity surveying students will be much in demand for rapid development projects in progress and planned in Sri Lanka. ICBT Campus is proud to be associated with Sheffield Halam University to provide a high quality Degree in Quantity Surveying."
Professor Paul Watson and Neil Hanney from Sheffield Halam University speaking at the launching ceremony said: ICBT and the Built Environment Department at Sheffield Hallam University (SHU) UK have entered into a collaborative relationship. The focus of the collaboration is to provide ICBT HND Quantity Surveying graduates with a new opportunity in the form of a one year BSc (Hons) Quantity Surveying and Construction Management top-up award which is validated and awarded by SHU and delivered by ICBT in Sri Lanka. The Built Environment Department at SHU is very experienced at providing international top-up courses and has an excellent track record over the last 12 years with over 1200 graduates from a similar course.
The Built Environment Department also has very strong links with professional bodies, such as the Royal Institution of Chartered Surveyors and the Chartered Institute of Building. The new course is vocationally focussed and therefore not only provides a well respected academic qualification but also develops the students into effective practising professionals; this in turn increases their employability within the Built Environment industry.
Sheffield Hallam University is one of the UK's largest and leading universities delivering high quality, qualifications. The students will have the opportunity of completing the degree in Sri Lanka while being assured all academic quality and standards of Sheffield Hallam University, UK. Students after completing the Final year are most welcome to attend the graduation ceremony in UK. The students can also transfer credits at the end of semesters and also go on to read for the masters. ICBT Campus is proud of its reputation for providing students with quality learning environment and boasts a range of state-of-the-art facilities including spacious lecture rooms with air-conditioning, audio visual equipment, Broadband Internet with wi-fi access, libraries, cafeterias and recreational facilities.
The first batch is scheduled to commence simultaneously at ICBT Campuses in Colombo and Kandy in March 2011 and those who have completed the HND in Quantity Surveying could immediately proceed with enrollment without further delays.