The Institute of Chartered Accountants of Sri Lanka (ICASL) recently conducted a seminar for the commerce stream students of Royal College Colombo under its "Sisu Nena" seminar series. Held at the Royal College auditorium, the seminar enlightened the students on a number of Sri Lanka Accounting Standards that are applicable to the G C E Advanced Level examination.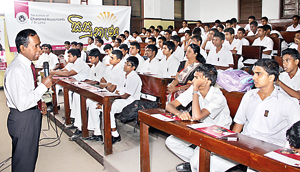 Mr. Dharmarajah addresing the students
Mr. T Dharmarajah, Chartered Accountant, Council Member of the University of Sri Jayewardenepura and ICASL conducted the session which was commended highly by the students and teachers who participated. Mr. Upali Gunasekera, Principal Royal College; Mr. Sujeewa Mudalige, President ICASL; Mr. C R Manawadu, Assistant Principal Royal College ; and Mr. Aruna Alwis Secretary/CEO ICASL were also present at this occasion.
The seminar also articulated the opportunities for career development in the field of Accounting. Mr. Upali Gunasekera addressing the students stressed on the objective of the seminar where he also mentioned about the career development opportunities for students in the sphere of Accounting. Mr. Sujeewa Mudalige defined the Chartered Accountancy qualification as a 'passport' to a world of opportunities and he invited students of Royal College also to join ICASL in pursuit of a clear career as a Chartered Accountant.