The country's national accounting body, the Institute of Chartered Accountants of Sri Lanka (ICASL) in its continuous strive to providing students the best of qualifications is offering two prestigious and internationally acclaimed Master's degree programmes from the University of Southern Queensland, a top-tier university in Australia.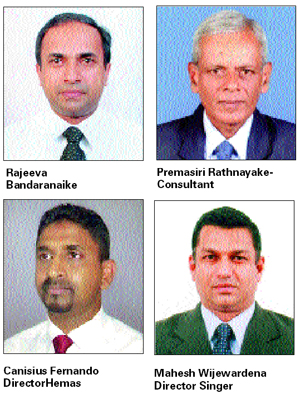 USQ in collaboration with the ICASL's well established Business School is offering the Master of Business Administration (MBA) and the Master of Project Management (MPM) programmes to Sri Lankans to ensure their further development in their chosen professional careers. Backed by an impressive record including its world-class reputation, the USQ is the first accredited 'Institution of best practice' for external higher education in Australia and consists of an impressive student base both in Australia and outside.
Entry qualifications to follow the prestigious Master's degree programme includes a basic first degree from any recognized university (in the English medium) and 2 years work experience and or any professional qualifications with a duration of 2 years (in English medium) and 2 years work experience or five years managerial experience.
A large number of high-end professionals in Sri Lanka's corporate world have taken advantage of this prestigious qualification offered via ICASL. According to the Commercial Director of Singer (Sri Lanka) PLC, Mr. Mahesh Wijewardene, the USQ MBA has helped him not only to further enhance his level of academic qualifications but also to market himself as a professional in a much more elevated level.
"I also decided to choose the USQ offered MBA because it was offered through a well reputed local institute, the ICASL, which made me even more comfortable with my decision," Mr. Wijewardene said.
The primary target of Mr. Canisius Fernando, Director - Supply chain of Hemas Manufacturing was to enhance his knowledge and obtain recognized professional qualifications to assist his long term professional goals. "I found the programme very interesting and particularly enjoyed subjects such as marketing, business strategy and international law covered in the MBA," he said. The USQ MBA not only boosted Mr. Fernando's decision making abilities but since obtaining his Master's, he has now become a director at a blue chip company.
Financial Consultant Mr. R M P Ratnayake found the practical aspects including the web- based interactions of the USQ MBA particularly enthralling. He also said he enjoyed the ability to share knowledge with fellow students worldwide and the interactions during the classroom sessions at ICASL. Among the features he enjoyed while studying for his MBA was the specialization on finance which assisted him to practise as a Financial Consultant. "With the assistance of the USQ MBA, I have successfully become a Financial Consultant, helping me reach my career goals at a much faster pace," he added.
Mr. Rajeeva Banadaranaike -Colombo Stock Exchange - AGM - Clearing & Settlement, stated that "The USQ MBA taught me over a relatively short period of time, business knowledge, technical abilities, management skills and problem-solving strategies that can take years to learn from on-the-job learning and provided the opportunity to network with fellow students, alumni and professors. These professional relationships provide excellent mentoring and contacts."