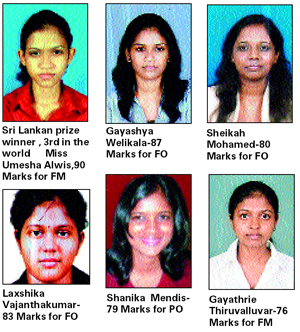 CIMA and The Academy of Management Education (AME) are synonymous in Sri Lanka for bringing out the best in students through its focused and experienced panel of expert lecturers who keep producing many prize winners from Sri Lanka.
The November 2010 CIMA exam results were released a few weeks ago. Adding yet another successful chapter to its already impressive record book Academy of Management Education - better known as AME - in the CIMA Nov 2010 examination Miss. Umesha Alwis scored high, being 1st in Sri Lanka in the Financial Management (F2) paper. She was also paced 3rd in the world among 4,845 students all over the world. Also there were many students who just missed the prize by a few marks.
Spurred on by an experienced and focused panel of lecturers and spearheaded by the highly acclaimed Mr. M. M. M. Tariq who possesses over 10 years of lecturing in the financial sphere of the CIMA syllabus, AMEproduced many prize winners through innovative lecturing methods.
Well supported by a vibrant and multicultural environment, AME offers students CIMA Official Learning System free of charge upon enrolment, in addition to many other facilities such as availability of CBA facilities in AME's own centre that enables students to choose a convenient date of their choice for the Foundation exam.