A large Private Education Provider in Asia Pacific organises an Open Day in its Colombo Campus on Saturday March 5. Numerous requests for private consultations by the affluent market have prompted this school to hold the second Open Day in less than 4 months to showcase the Raffles experience.
Invited guests will have a firsthand contact with the academic team of highly experienced lecturers, the latest equipments, leading software and its high security access control systems.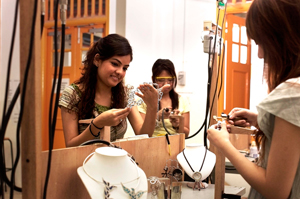 Academic Director, Associate Professor Julie Ross is extremely positive with the confirmed registrants. "This goes to show how well established and recognized Raffles is in the private education sector in this region," she said. Incubating raw talents and nurturing them into respectable professionals has always been the aim of Raffles Institute of Higher Education. With the initial offering of six distinctive 2 year Advanced Diploma programmes in Fashion Design, Fashion Marketing & Management, Interior Design, Graphic Design, Multimedia Design and Jewellery Design, Raffles Institute of Higher Education is poised to raise the bar for the designing sector in Sri Lanka.
Deserving students and parents will appreciate the efforts and recognize the serious view Raffles have on their students' future. Studying at Raffles makes a difference because the school believes not only in incubating raw talents but also nurturing them into respectable professionals with practical skills with its industrial internship programme. Through active collaboration with reputable organisations in the various industries, Raffles offers its students a unique learning experience - taking from the classroom into the real world. "We have had a mandatory industry-based internship programme at Raffles in place for many years," says College Director, Desmond Seah. "The compulsory internship connects our programmes to industry. It provides the student with a unique opportunity to learn first-hand about a specific area they think they may be interested in and at the same time exposes them to valuable industry contacts," he added.
Learners will be equipped with a strong foundation in technical proficiency and a good eye for market trends. With the assistance of our international lecturers, the students will be able to adapt to ever-changing market needs, technological developments and be ready to assume professional work the moment they graduate.
At Raffles Open Day, you can also speak with our lecturers and education consultants and find out what courses could best suit you and what career options await graduates. The private Open Douse is scheduled for Saturday March 5, 10am sharp. Interested parties are to call 4375 111 for reservation. Admission is by invitation only.
About Raffles Education Corporation
Raffles Education Corporation Limited ("RafflesEducationCorp") is one of the largest private education group in Asia-Pacific. Since establishing its first design college in Singapore in 1990, the Group has grown to operate 38 colleges of higher education in 35 cities across 14 countries in the Asia-Pacific region: Singapore, Australia, Bangladesh, China, Cambodia, India, Indonesia, Malaysia, Mongolia, New Zealand, Vietnam, Thailand, and Sri Lanka.
Raffles is accredited to award its own degree and is approved by the Commonwealth Government of Australia (cricos-02761J) allowing our students to compete successfully in the global economy. We have set up a new campus in Colombo under the Board of Investment (BOI) Sri Lanka status. Visit us at www.raffles.lk or call us at 4375 111 for more information.