In a turbulent environment students are offered a mind-boggling array of opportunities. At the International College of Business and Technology (ICBT) students are given the opportunity to pursue careers that are exceedingly rewarding. For the first time in Sri Lanka, ICBT offers the BSc.(Hons) in Quantity Surveying and Commercial Management from the Liverpool John Moor University, UK.
ICBT is the only private institute in Sri Lanka giving you the opportunity to complete a Bachelor's Degree to those who have completed HND in QS or related qualifications such as City & Guilds advanced Diploma or equal qualifications in QS.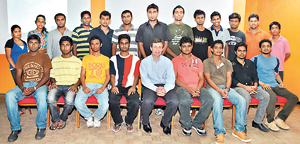 First batch of LJMU QS students @ ICBT with Dr. Andrew Ross Head of Postgraduate Programs-School of Built Environment of Liverpool John Moor University, UK.
BSc (Hons) in QS from LJMU is primarily designed as a top-up for those with the above qualifications followed by a guaranteed pathway to complete a fully accredited (RICS,CIOB) MSc. University of John Moor is a post 1992 university in UK, providing a range of courses from Science, Medicine and Pharmacy to Business, Education and Sports Science.
The course offered by the Liverpool John Moor University aims to provide students with a broad education in technology, measurement, management, law and contract. It has been devised to allow students to develop skills in these areas and apply them via project based modules founded in "real" construction scenarios.
On February 9 the Sunday Times Interviewed Mr. Anura Gamage, Director Marketing ICBT; and Dr. Andrew Ross, Head of Postgraduate Programmes-School of Built Environment of Liverpool John Moor University, UK.
"Quantity surveying is a rewarding career with a great demand in nations where rapid development is taking place" stressed Mr. Anura Gamage. "The salary of a fresher in the Middle East is around £3000".
"ICBT in collaboration with Liverpool John Moor University provides this Bachelor's Degree by way of a Flying Faculty and Summer School. Therefore, students have the opportunity to work directly with professors from Liverpool John Moor University, who will be flying to Sri Lanka every two weeks", noted Dr. Andrew Ross. "The Summer School gives you the opportunity to complete your Bachelor's Degree in UK for just 4 months during summer and return to Sri Lanka as a Graduate Quantity Surveyor, or stay back in UK and continue to the Postgraduate level or even join the industry", he stated.
"Liverpool is a safe and supportive environment. The university picks the students from the Manchester airport and accompanies them to their comfortable single bedroom modern suites", he added further.
"After completing 4 months of the Bachelor's Degree at ICBT, it is compulsory for the student to fly to Liverpool John Moor University for another 4 months in order to complete the Bachelor's Degree. Accommodation during the 4 months stay in UK is provided by the University," noted Mr. Gamage. Students don't need to pay for the accommodation which is located opposite the University and facility include 24 hour security with digital access control, camera monitoring of access, private room with modern facilities and common areas with cooking and living areas.
Total course fee of £9900 (payable in instalments) both undergraduate + postgraduate, includes the total cost of accommodation. "Only ICBT offers you this exclusive opportunity", he noted. "Those who qualify the Master's in Quantity Surveying at Liverpool John Moor University with APC are entitled to apply for the RICS full membership (Royal Institute of Charted Surveyors) status", The APC (Assessment of Professional Competence) is the practical training and experience which, when combined with academic qualifications, leads to RICS membership he added further.
The range of British qualifications on offer enables ICBT to achieve its vision- a vision to be the leading higher education provider in South Asia. By offering its recognized courses through five branches ICBT reaches students living across the island.
Do not hesitate to invest in a career that would bring you immediate rewards. So, join ICBT to make a successful career in Quantity Surveying and enjoy a wealth of opportunities!
First batch of BSc (Hons) in QS is scheduled to commence in March 2011 and will be conducted in both Colombo and Kandy branches of ICBT Campus. You can gain more information by visiting the ICBT Campus.