The world's first land- based aquaculture farm is now under construction in Sri Lanka. This farm complex for Asian species of fish - Sea Baas (Barramundi) designed and engineered by Hobas AS, an internationally-recognized Norwegian aquaculture specialist company is nearing completion at Thalahena, Negombo.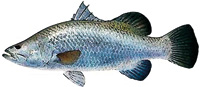 Sea Baas
The farm, according to Managing Director of Hobas AS, Asbjorn Drengstig is the first of its kind in existence anywhere in the world. He said, "Initially the fingerlings of the Asian Sea Bass (Barramundi) usually found in sub tropical regions in Asia and the Pacific will be introduced to the huge tank at the farm complex."
Even though this fish species can withstand varied strengths of salinity ranging from freshwater to sea water, lower salinity promotes full scale growth, according to research findings. Usually the Asian Sea Bass is ready to be harvested when the size of the fish reaches about 2.5 cm, he said. Referring to the aims and objectives of constructing the land-based aquaculture farm at Thalahena, Mr Drengstig reiterated that it is an experimental demonstration farm for prospective land-based aquaculture industrialists in Sri Lanka and other countries in the Asian region.
Once this innovative aquaculture farm complex is completed it will function as a unique model demonstrative facility for all aquaculture enthusiasts across Asia, he said. The availability of services of Hobas AS- trained Sri Lankan aquaculture technicians and their expertise and experience and the collaboration of AJ Fishing Industries (Pvt) Ltd based at Katunayake in providing all the innovative fibre glass solutions are the contributory key factors in making Sri Lanka a location for innovative technology in land-based aquaculture for Asia.
Mr Drengstig noted that the transfer of cutting–edge technology on the land-based aquaculture industry to businesses interested this industry in Sri Lanka is the vision of NORAD, the Norwegian aid agency through its Match-Making Programme (MMP).
"The Sri Lankan team has undergone training on every aspect of the technology of this new industry. For more than two years these technicians have been engaged in producing all the required modules and components of aquaculture industry out of fibre glss at the factory complex of AJ Fishing Industries Ltd at Katunayake," Mr Drengstig said.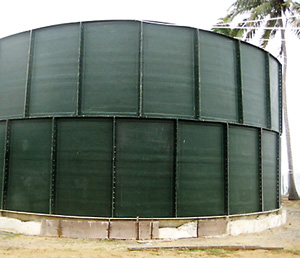 The tank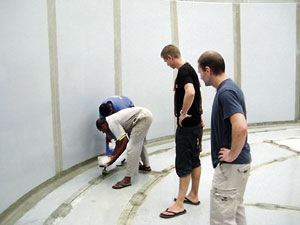 Construction in progress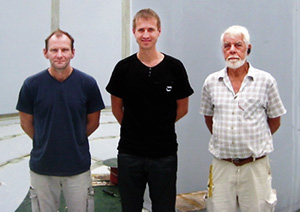 Senior officials